The Dordrechts Museum has been enriched by a new acquisition - an exceptional and unique painting by the English landscape painter J.M.W. Turner (1775-1851). Turner is England's most famous painter, but his work is rare in the Netherlands. He is considered one of the most important and original landscape painters of all time. Whalley Bridge and Abbey is an important early work by Turner that was missing from the Dutch National Collection. Thanks to a private collector, the Dordrechts Museum has been able to add a painting by this English master to its collection on a long-term loan basis.
The painting by Turner beautifully complements the work of Aelbert Cuyp (1620 – 1691), Dordrecht's most famous painter. Turner was a great admirer of the Dutch master's work. Not only did Cuyp's soft, golden light make a deep impression on the English artist, but he was also charmed by Dordrecht, Cuyp's hometown. He visited the city a total of four times.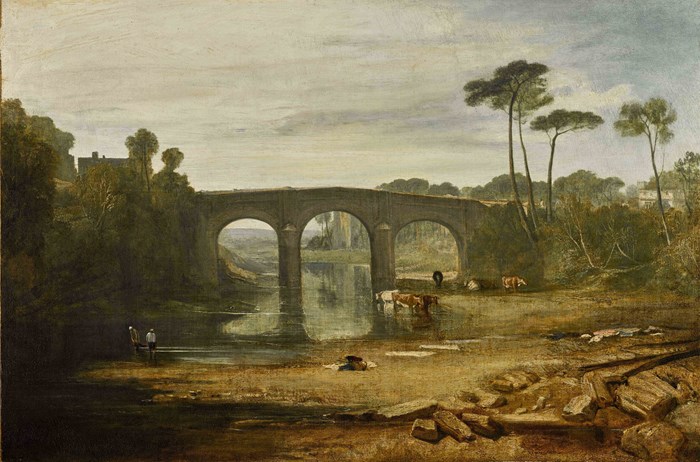 Photo credit :  Joseph Mallord William Turner (1775-1851), Whalley Bridge and Abbey, Lancashire: Dyers washing and drying cloth, ca. 1811, olieverf op doek, 61,2 x 92 cm, Dordrechts Museum, bruikleen particuliere collective
Whalley Bridge and Abbey was made in the same year that Turner praised Cuyp's lighting effects in a lecture. Indeed, the light and serene, tranquil atmosphere in this work by the English artist are highly reminiscent of Cuyp. The exhibition In the Light of Cuyp, which examines Cuyp's impact on English landscape painters, opens at the Dordrechts Museum on October 3, 2021, and the new acquisition will be a major highlight. Admirers of Turner's work won't have to wait until then to admire the new acquisition, however. It will be on display in the Cuyp Room at the Dordrechts Museum until September 1, 2021.