Steve Brouwers has a fresh-out-of-the-press book, with takes a fascinating look inside the worlds and works of 44 creative masterminds including George Lois, Erik Kessels, John Stezaker, Stefan Sagmeister and Harry Gruyaert, that will inspire anyone interested in the elusive concept of creativity.
For this book, Steve Brouwers (creative director at SBS) interviewed 44 makers – painters, photographers, graphic designers, conceptual artists, furniture designers, video artists, advertisers – from all over the world. He asked them about their childhood, their creative process, their inspirations and their most memorable achievements. The question that returns in every interview – "What is creativity to you?" – resulted in a collection of personal conversations that provide an extraordinary insight into the mind of the artists.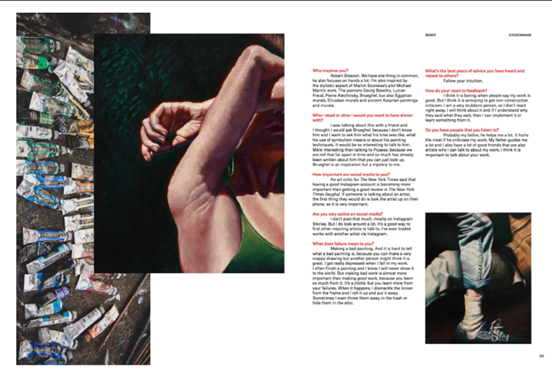 Creatives on Creativity is packed with inspiring images and refreshing insights that invite you to reflect on your own idea of creativity.
Steve Brouwers in conversation with: Nel Aerts, Alain Biltereyst, Conrad Botes, Paul Boudens, Jenny Brosinski, Tad Carpenter, Emily Forgot, Matt Clark, Jim Dive, Sue Doeksen, Bendt Eyckermans, Paul Fuentes, Harry Gruyaert, Ryan Gander, Tony Gum, Stephanie Hier, Wade Jeffree & Leta Sobierajski, Maira Kalman, Erik Kessels, Eike König, George Lois, Anna Mac, Debbie Millman, Jonathan Monk, Mr Bingo, Morag Myerscough, Navid Nuur, Gemma O'brien, Max Pinckers, Pixie Pravda, Kay Rosen, Stefan Sagmeister, Paula Scher, Yuko Shimizo, Sammy Slabbinck, John Stezaker, Charline Tyberghein, David Uzochukwu, Joris Van De Moortel, Anne-Mie Van Kerckhoven, Dominic Wilcox, Matt Willey, Shawna X
About the Author
Steve Brouwers is a Creative Director at Belgian broadcaster SBS. He has been working in television for over 25 years. He reads three newspapers every weekend, receives about a hundred emails a day, and has too many friends on Facebook and Instagram to take them all out for coffee. He lives in a blended family of six whom he loves dearly. He's also the author of the book Almost Everything You Need to Know About Blended Families. Steve is an inspirational speaker whose talks are well attended all over the world. As a creative he suffers from imposter syndrome, as well as being a procrastinator and a deadline junkie. When asked to jump, he doesn't ask "Why?", but "How high?"
 Title: Creatives on Creativity
Author: Steve Brouwers
Release date April 2021
Pages 352
Format & finish 19 x 25 cm, hardcover
Retail price: €39,95 / £ 35 / US$ 49,95
Language English