On May 12, 2021, Sotheby's New York saleroom, redesigned for the occasion by Hamilton set designer David Korins, welcomed a limited number of clients for a series of gala-style sales that brought together in-person and digital experiences as never before, with results to match:
Together, the three sales staged that evening realized $597 million (total pre-sale estimate across all three sales $439.4/603.8m), bringing the overall total auction sales at Sotheby's worldwide this week to $672,897,518, with additional sales taking place in Geneva, London and Paris. Sotheby's Day Sales of Impressionist, Modern and Contemporary Art are still to come this week.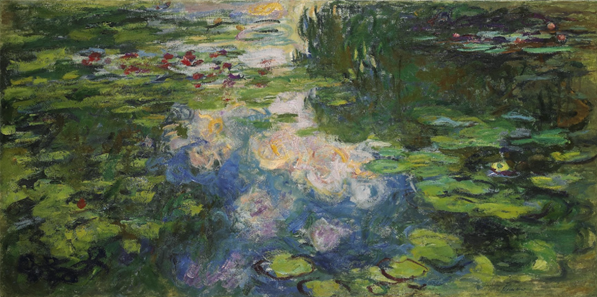 Painting by Claude Monet
Key Take Aways
Participants were from 43 countries
Livestream attracted 1.7 million views around the world
Across all three sales: 93% sold by lot
Collectors in Asia take home works by Gerhard Richter, Roy Lichtenstein, George Condo, Jeff Koons, Dana Schutz, George Condo, Claude Monet, Leonor Fini, and Pierre-Auguste Renoir, and underbid works by Banksy, Monet's Le Bassin aux nymphéas, Egon Schiele, and Pierre-Auguste Renoir
At least five bidders competed for works by Claude Monet, Jean-Michel Basquiat, Elizabeth Peyton, Banksy, Rudolf Stingel, and Raymond Pettibon
Eleven Auction Records: Robert Colescott | Richard Diebenkorn | Leonor Fini | Childe Hassam | Jeff Koons (Painting) | Harold Ancart | Kenneth Noland | Larry Rivers | Raymond Pettibon | Elizabeth Peyton | Salman Toor
SALE BY SALE STATS
AMERICAN VISIONARY: THE COLLECTION OF MRS JOHN L. MARION
Every paddle raised in this evening's sale paid homage to Mrs. Marion's remarkable life - her boundless energy and limitless spirit of inquiry."
Michael Macaulay, Sotheby's Senior International Specialist for Contemporary Art
Sale total: $157.2 million (est. $132.8-190.2 million)
Two works exceed $30 million & four works exceed $20 million
Artist records for Richard Diebhenkorn, Kenneth Noland, and Larry Rivers
Andy Warhol's 1963 Elvis 2 Times eclipses high estimate to sell for $37 million in auction debut (est. $20/30 million)
Clyfford Still's masterwork, PH-125 (1948-No. 1) achieves $30.7 million in its auction debut (est. $25/35 million)
Gerhard Richter's Abstraktes Bild was underbid by one collector in Asia, and sold to another for $23.2 million (est. $14/18 million)
Richard Diebenkorn's seven-foot-tall Ocean Park #40 - bought at Sotheby's in 1990 for $880,000 - sells for at $27.3 million (est. $20/30 million)
CONTEMPORARY ART EVENING AUCTION
"The tremendous result for Basquiat reaffirms his position as the preeminent and most sought-after artist in the market right now. There is no question, Basquiat's now stands alongside Andy Warhol, Pablo Picasso, and other great artists of the 20th century."
Grégoire Billault, Sotheby's Chairman of Contemporary Art
Sale total: $218.3 million (estimate $140.1/194.3 million); 100% sold
Jean-Michel Basquiat's Versus Medici – see above
Cy Twombly's Untitled (Rome) from the artist's series of Blackboards paintings brought $41.6 million (estimate $35/45 million)
Robert Colescott's George Washington Carver Crossing the Delaware shattered his previous auction record ($912,500) by more than 16 times. The painting sold for $15.3 million (estimate $9/12 million) after a seven-minute bidding battle, to the Lucas Museum of Narrative Art
Banksy's Love is in the Air sold to applause after a 14-minute bidding battle for $12.9 million (estimate $3/5 million) - the second-highest auction price for the artist
IMPRESSIONIST & MODERN ART EVENING SALE
"Tonight's sale is a resounding vote of confidence in the Impressionist & Modern art market, with strong global demand for the roll call of great names we were able to present."
Helena Newman, Sotheby's Worldwide Head of Impressionist & Modern Art
Sale total: $221.3 million (estimate $166.5/219.3 million); 94% sold
Claude Monet's Le Bassin aux nymphéas – see above
Paul Cézanne's Nature morte: pommes et poires $20 million (estimate $25-35 million). last sold at auction for $8.7 million at Sotheby's NY in November 2003.
Leonor Fini's Autoportrait au scorpion brought $2.3 million – over 2x its high estimate and the artist's previous auction record
Five works by Pablo Picasso were 100% sold, including Femme assise en costume vert which sold for $21 million (estimate $14/18 million)
Joan Miró's Peinture achieves $12.7 million (estimate $12/18 million)
Childe Hassam's Flags on 57th Street, Winter 1918, which sold for $12.3 million (estimate $12/18 million).