This April and May, Christie's will present an international program of exhibition and sales initiatives from London to New York to benefit Ukraine. Partnering with three major non-profit organisations—the World Monuments Fund (WMF), Doctors Without Borders / Médecins Sans Frontières (MSF) and CORE (Community Organized Relief Effort) Effort, Christie's joins together with artists, consignors and collectors to raise essential funds in support of humanitarian aid and cultural heritage preservation efforts in Ukraine. These initiatives are expected to raise around $1 million in relief aid for Ukraine, and follow Christie's initial humanitarian donations to the Red Cross and the United Nations Refugee Agency announced in February and March.
WORLD MONUMENTS FUND / LONDON
In London, opening April 25th, Safeguarding the Irreplaceable: A Selling Exhibition to Benefit the Ukraine Heritage Response Fund at World Monuments Fund, will debut at Christie's King Street and  will remain on view through May 5 and online until the end of May. 
Christie's partnership with World Monuments Fund will support immediate action to protect Ukraine's cultural heritage from further damage and lay the foundation for future recovery. A portion of the sale's proceeds will directly benefit WMF's newly formed Ukraine Heritage Response Fund. Consignors will donate a significant percentage of the proceeds, and Christie's will also donate most of its commission.
Spanning the early 20th century to the present, the artists featured in this tri-part exhibition are Ukrainian-born; identify with Ukrainian roots; were active in Ukraine; or are contemporary artists in the Ukrainian diaspora. An online viewing room accessible to collectors worldwide will complement the exhibition at Christie's King Street galleries.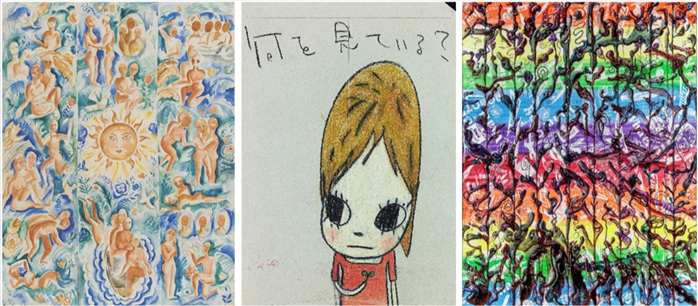 - The Peremen Collection of Ukrainian Avant Garde Artists is offered for sale as a single group of 86 paintings and drawings. Originally compiled by patron of the arts Yakov Peremen (1881-1960) the collection is comprised entirely of work by the first avant-garde Ukrainian artists— such as Theophil Fraerman, Amshei Nurenberg, Isaac Malik, and Sigismund Olesevich— who painted in Paris in the early years of the 20th century and were inspired by Matisse, Gauguin, Cézanne and Van Gogh.
- 20th Century Ukrainian Modernists features 10 paintings by pivotal artists in the canon of art history who were born in Ukraine. Highlights include works by Maria Siniakova, David Burliuk, Alexandra Exter, Oleksandr Bohomazov, and Wladimir Baranoff-Rossiné.
- Ukrainian Contemporary Artists in the Diaspora features 20 contemporary Ukrainian photographs and video artworks curated by Peter Doroshenko, Executive Director of Dallas Contemporary and co-organiser of the 2017 Ukraine pavilion at the Venice Biennale. Highlights include three sepia works by Boris Mikhailov from the Salt Lake Series; four graphic screen prints by Anna Kulachek; selections by Yelena Yemchuk  from her Mabel, Betty & Bette series, and works by Odesa photographer Ira Lupu, drawn from her 2019-2020 project, On Dreams and Screens.
Bénédicte de Montlaur, WMF President and CEO, commented "World Monuments Fund recently launched the Ukraine Heritage Response Fund to address the immediate critical needs of heritage professionals in the country and to lay the groundwork for future rehabilitation. The current crisis in Ukraine requires an immediate response from the cultural heritage preservation community, including WMF, to address the short-, medium-, and long-term needs of the country and its heritage professionals. We are thrilled to be partnering with Christie's to further support this initiative."
 
Sonya Bekkerman, Christie's Deputy Chairman of Business Development, who coordinated the project at Christie's, said: "We believe in the power of art in society and in our responsibility to act as stewards of culture. Christie's, as well as our partners, private collectors and members of the trade, are joining together in a shared mission that is close to all of our hearts: to support the preservation of culture for generations to come, for the greater good of mankind."
DOCTORS WITHOUT BORDERS / MEDECINS SANS FRONTIERES (MSF) / NEW YORK
In New York, during Christie's Marquee 20/21 Sales of 20th and 21st Century Art in May, eleven works of contemporary art, generously donated by the artists and their galleries, will be sold as part of "Artists for Humanity: A Tribute to Ukraine benefitting Doctors Without Borders / Médecins Sans Frontières (MSF)"  in Christie's 13th May Day Sale.  Leading the collection of charitable donations—including three works by Ukrainians and eight by other international artists— are two of Yoshitomo Nara's signature color pencil-drawn caricature portraits of girls (estimates $100,000-150,000 and $80,000-120,000) and Boris Mikhailov's famed superimposed photography series titled "Yesterday's Sandwich" of Soviet life in the 1970s (pictured; estimate $3,000 -$5,000). Other artists contributing to the auction include Ilya and Emilia Kabakov, Cyprien Gaillard, and Olafur Eliasson.
Proceeds from the auction will support MSF's Emergency Relief Fund (ERF) to provide lifesaving care where the needs are greatest.
Alongside his curatorial support for the contemporary section of Christie's London exhibition, Peter Doroshenko has also supported the selection of artwork to benefit Doctors Without Borders / Médecins Sans Frontières (MSF) in Christie's 20/21 auctions. He commented: "With the current war and humanitarian atrocities occurring in Ukraine, it was important to reach out to artists to raise both funds and awareness of the current global efforts of Doctors Without Borders. The herculean work by Doctors Without Borders is long-standing in Ukraine. I am pleased that Christie's was able to orchestrate this important event in such a short period of time demonstrating their commitment to important charities around the world."
CORE / NEW YORK
In Christie's accompanying Post-War and Contemporary Day Sales in New York on 13 May, works by Kenny Scharf and Gina Beavers will be generously donated to raise funds for CORE, the non-profit global crisis response organization founded by Sean Penn and Ann Lee that has been providing crucial relief to the humanitarian crisis in Ukraine, including supporting refugees in Poland and Romania, distributing essential resources, providing cash assistance, and supporting makeshift shelters.  Kenny Scharf's Frackattack from 2017, is estimated at $100,000-150,000 and Gina Beavers' Invisible Lip (pictured), personally donated by the artist, is estimated at $40,000-60,000.  
Sean Penn, Co-Founder of CORE, said: "The humanitarian crisis in Ukraine is one of the most heartbreaking moments in our lifetimes and an emergency for the world at large. It is a crucial moment for us not only to support the resilient people of Ukraine but for humanity itself. We are extremely grateful to Christie's and the artists who have donated their work towards CORE's critical efforts worldwide, including the humanitarian crisis in Ukraine, to allow us to continue to support those who need it most in their greatest hour of need and beyond."