On May 11, Christie's inaugural 21st Century Evening Sale opened a highly-anticipated 20/21 Marquee Week in New York, and achieved USD $210,471,500, selling 95% by lot and 123% hammer above low estimate. The auction was headlined by the sale of Jean-Michel Basquiat's spectacular skull painting, In This Case from 1983, achieving USD $93,105,000 at the conclusion of a six-minute bidding battle between collectors from the U.S. and Asia.
Ana Maria Celis, Head of the 21st Century Evening Sale, Christie's: "Tonight was an exciting night. After a year filled with disruption, we were able to put together an extraordinary group of artworks that represented the last 40 years. Out of the 35 artists represented, 11 records were set. These records showcase an extremely diverse group of artists in race and nationality, and is a true representation of the art world today."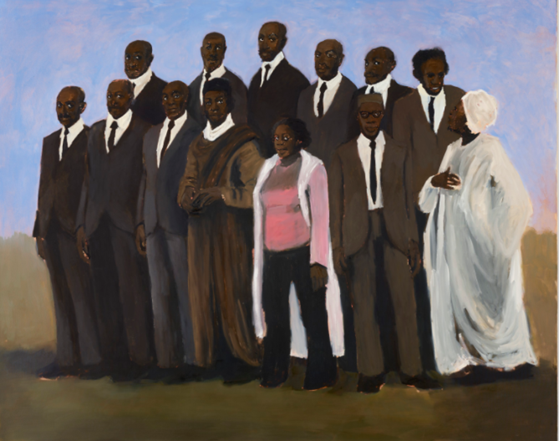 Lynette Yiadom-Boakye,'Diplomacy III', (2009)
Christie's new 21st Century Evening Sale concept was carefully designed as a high-profile presentation that gives greater visibility to a diversity of artists, and engages a broader group of collectors at a range of price points. Representing a wide range of artistic styles and movements, the sale attracted participation from bidders in 29 countries across the U.S., Europe and Asia.
Christie's further established its position as a leader in the world of NFTs tonight following the sale of nine Cryptopunks from Larva Labs (USD $16,962,500). In March, Christie's sale of Beeple's EVERYDAYS—THE FIRST 5000 DAYS was the first NFT based purely on a digital work of art ever offered by a major auction house. Realizing nearly $70 million, the Beeple sale was a landmark for the NFT industry.
The 21st Century Evening Sale realized exceptional results for women artists, recalibrating records for a number of artists, including Lynette Yiadom-Boakye's Diplomacy III (USD $1,950,000), Mickalene Thomas' Racquel Reclining Wearing Purple Jumpsuit (USD $1,830,000), Nina Chanel Abney's Untitled (XXXXXX) (USD $990,000) and Jordan Casteel's Jiréh (USD $687,500).
An artist record for medium was set by Martin Kippenberger's Martin, ab in die Ecke und schäm dich (Martin, Into the Corner, You Should Be Ashamed of Yourself), realizing USD $9,520,000. A new artist record was set for Rashid Johnson's Anxious Red Painting December 18th (USD $1,950,000) with proceeds going to CORE (Community Organized Relief Effort), an emergency relief nonprofit co-founded by Sean Penn and Ann Lee dedicated to raising critical funds for to support COVID-19 mobile vaccination programs and relief efforts for marginalized communities. The total contribution to CORE is USD $2.7 million, including funds coming from the sale of donated works by Urs Fisher and Joel Mesler.
Dana Schutz'sThe Fishermen realized USD $2,970,000 to benefit Art for Acres, an organization that supports land conservation. The Indigenous-led conservation projects sustain wildlife habitat and migration on landscapes with high levels of biodiversity. Proceeds from Schutz's painting will contribute 300% in matching funds from partner organizations including Andes Amazon Fund, Global Wildlife Conservation and the Wyss Foundation. In total, the sale raised USD $9.8 million.
The spring 20/21 series in New York continues on Thursday at Christie's with the Evening Sale of 20th Century Art, featuring masterpieces by Monet, Picasso, Mondrian, Rothko, and Van Gogh, among others. Day Sales of Post-War and Contemporary Art, Impressionist and Modern Art and Works on Paper will continue in New York on Friday.