A Covid memorial for the nation… In May 2022, a unique commemorative public memorial will come to Nuneaton & Bedworth, the birthplace of George Eliot and home to the country's largest Armistice Day Parade. Sanctuary will stand as an unforgettable temporary structure, offering a moment to commemorate the nation's loss during the Covid-19 pandemic, to mark the rebirth, recovery and regeneration of the whole community.
Sanctuary, third in our memorial trilogy with David Best, is an intricate wooden structure being created in collaboration with the local community of North Warwickshire, creating opportunities to develop carpentry skills and beyond. Famous for his temples at Burning Man in the Black Rock Desert in Nevada, David's vision is for Sanctuary to be a healing space for everyone to come back together after isolating and challenging two years for us all.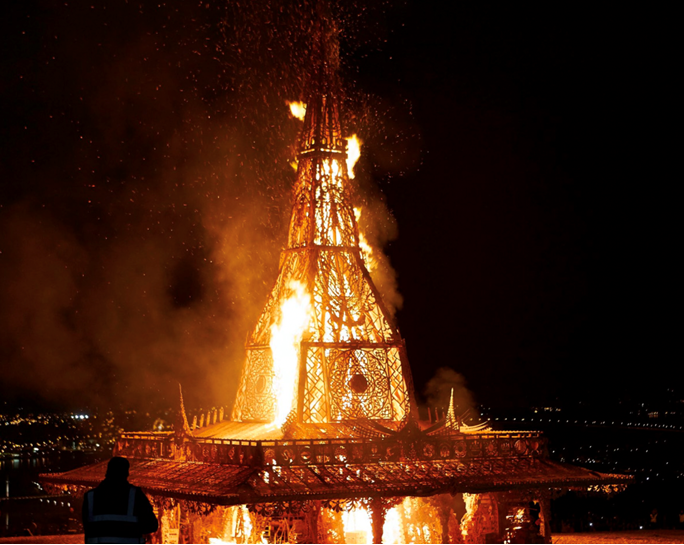 Produced by Artichoke, in association with Imagineer and supported by Nuneaton & Bedworth Borough Council, Warwickshire County Council and DCMS Culture Recovery Fund, Sanctuary will be built in the stunning Miners' Welfare Park in the heart of Bedworth, "the town that never forgets".
Sanctuary will offer an extraordinary spiritual space for communities to come together to mark the losses of the last two years by donating words, objects or mementos left to adorn the walls of this monument to the resilience of the human spirit. A spectacular finale held on Saturday 28 May will see the structure be ceremonially set alight in a powerful symbol of catharsis and rebirth.
This is a project for the whole community and one that will put Nuneaton & Bedworth firmly on the map. Sanctuary will bring people together from across the area and provide opportunities for employment and training, working through community groups and local partners.
David Best
Californian artist David Best trained in sculpture at the San Francisco Institute of Art. His work includes using found objects to embellish cast porcelain figures and art cars.
In 2000 he began the tradition of building 'Temples' at Burning Man in the Black Rock Desert, Nevada to commemorate the life of a crew member that died during construction. Best has since built eight different 'Temples' at the event with the help of hundreds of volunteers and the Temple Crew. Over the years these structures have taken on a spiritual significance, becoming spaces for remembrance and forgetting, each ritually burnt to the ground at the end of the event.
Best has also built other 'Temples' outside of Burning Man in San Francisco and Detroit.