The Bourse de Commerce is a new site in Paris where works from the Collection Pinault are displayed. Dedicated to contemporary art seen through the prism of the collection, it presents thematic displays and monographic exhibitions, as well as new productions, commissioned works, carte blanche events and in situ projects. Open to everyone and every artistic discipline, the Bourse de Commerce offers educational programmes, conferences, meetings, screenings, concerts and performances. It opens May 22, 2021.
Since 2006, François Pinault has developed his ambitious project along three main strategies. On the one hand, a network of museums located in Venice: Palazzo Grassi, to which an auditorium, the Teatrino, was added in 2013, and the Punta della Dogana, all designed and renovated by Tadao Ando. It has also organized a series of exhibitions in partnership with institutions in France and internationally, through which the works in the collection have been seen in new contexts, by audiences who may not have the opportunity to travel to Venice. And, finally, it has developed several initiatives whose goal is to encourage and support the creation of contemporary art and the study of art history, such as its artist-residency program in Lens or the annual Pierre Daix Prize.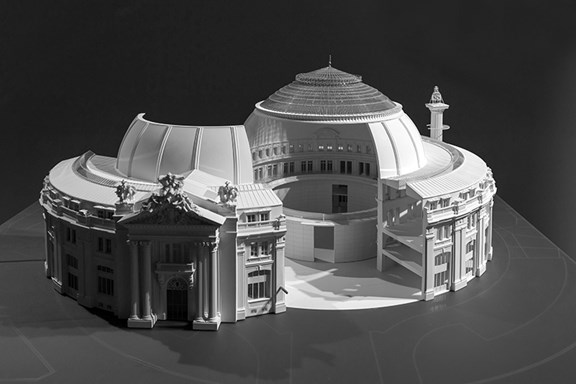 With the addition of the Bourse de Commerce, in Paris, the Pinault Collection is committing itself to an ambitious new scale. It is adding to its network of permanent exhibition sites, while committing itself to preserving the individual identity of each. The Bourse de Commerce will occupy a central role in this original organization, collaborating closely with Palazzo Grassi, the Teatrino, and the Punta della Dogana.
At the Bourse de Commerce, we will present thematic hangings of works in the Pinault Collection, monographic exhibitions devoted to major artists, commissions, cartes blanches, and in situ installations. A schedule of exhibitions of varying lengths will be organized such that visitors will have countless opportunities to discover diverse works throughout the year, as they return to the museum, and to attend cultural and educational programs in spaces specifically designed for that purpose. As much space as possible will be used to welcome visitors and accommodate the audience's needs; offices, storage spaces, and utility areas will be small or located off-site.
The Bourse de Commerce will include 6,800 square meters of modular exhibition space, divided into rooms from 100 to 600 square meters or used as a single whole, to welcome large-scale projects. The volumes, which can range in size from intimate to monumental, will be conceived and adapted such that they can most fittingly present works in various scales and different media, from photography to installations, and including painting, sculpture, and video.
Along with gallery space, the Bourse de Commerce will also feature an auditorium with 284 seats, an ideal setting for screenings, lectures, conferences, and concerts, along with a vast foyer and a black-box theatre for video installations and experimental performances.
Every detail will be carefully thought out, paying close attention to pragmatically approaching the constraints that arise from adapting an historic monument to a new function, including modulating temperature and lighting (both natural and artificial) and outfitting the building to accommodate the transport and installation of works (with loading docks, access ramps, and freight elevators). We will combine our efforts to ensure that visitors encounter art in a context that is informative, agreeable, and enriching.
The overarching aim of this architectural and cultural project is to create the conditions for a thoughtful discussion with the works and the audience, with culture and history.