At exactly 299 steps* from the KMSKA, the auction house presents itself as the 'antechamber' of the recently reopened monument. In our opinion, the fact that the building has been inaccessible for (too) long will be overshadowed by the wealth of the collection, which will be on display again for a long time in not one but two museums. Antwerp will be able to play out its role as a city of the arts and commerce even more. The urban development efforts that have been made in this neighborhood in recent years and are still underway have demanded a lot of patience, but were much needed for the somewhat dormant neighbourhood.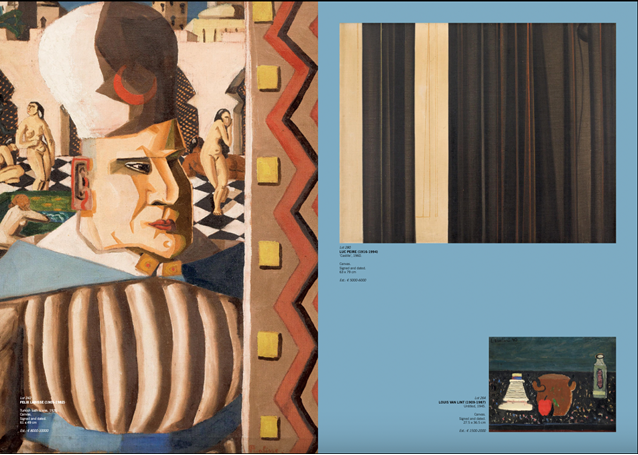 Nieuw-Zuid, Zuidpark, the Kaaien, the relocation of the MHKA, but above all the impressive renovation of the 'Museum of Fine Arts', completed in 1890, will create a dynamic in which the auction house welcomes guests from home and abroad as 'front room'. received before and after the museum visit.
To celebrate this happy event, exceptional pieces have been reserved for a thematic auction, The Grand Opening come directly from the architect's family estate of the Royal Museum of Fine Arts under the hammer. All signed by one of the two architects, Frans Van Dijk, dated 1883 and provided with the approval stamp of the city council, they are not only impressive because of their size and rarity, but also because of their thorough sense of detail. 

Bernaerts will also present late 19th-century impressions of the city on the basis of paintings by Croegaert-Van Bree, Hendrik Schaefels or Paul Edward Richard Sohn.
In the segment of the Old Masters the auction house highlight, among other things, the 'parrot shooting by the Saint Sebastian guild of archers during the Saint George's Fair' by Matthias van Helmont (genre), while a true discovery is an early 17th-century Mary Magdalene by the Antwerp native Jan Cossiers .is.
Another 'découverte' is a large study drawing by James Ensor and animalier Albéric Collin in turn an impressive bronze lioness from the Art-Déco period under the hammer and contrasting two graphite relief works by the Japanese Takesada Matsutani , of which here in our Little of it comes on the market in the region, with a 2013 'Pile ou Face' by the internationally acclaimed Shirley Jaffe .
For the occasion, original works by Louis Van Lint as well as Panamarenko, Pieter Vermeersch, Bram Bogart as Kati Heck and Koen van den Broek will be presented. 

classic vs. So modern, an offer as diverse as that of the adjacent museum, but still available.

View some highlights here .
Catalog online from September 23. 

Viewing days
September 24 - 25: 10 a.m.-5 p.m.
26 - 30 September & 3 - 5 October: 10 a.m.-12 p.m. and 1-5 p.m.
6 - 9 October: 10 a.m.-6 p.m.

Platform concert XXX on October 9 10:45 a.m.
Bram De Looze (piano)
The Goldberg Variations, JS Bach
For more info click here . 

Live Auctions
Tuesday 11 October 2 pm The Grand Opening I (lots 1-182)
Wednesday 12 October 2 pm The Grand Opening II (lots 200-343)

Timed Online Auctions
September 23 – October 17 
Art & Antiques: lots 500-649
Jewelery and Wine: lots 700-852
Work on Paper: lots 5000-5114