Image: Pipilotti Rist, "Homo sapiens sapiens", 2005, Audio-video installation (video still), Pipilotti Rist, courtesy the artist, Hauser & Wirth and Luhring Augustine
The actual three exhibitions at Gropius Bau in Berlin are worth to be experienced.
Starting from The Garden of Earthly Delights visible just until the 01.12.2019 is a very special assemble of the following artists: Maria Thereza Alves, Louise Lawler, Rashid Johnson, Taro Shinoda, Hieronymus Bosch, Hicham Berrada, Zheng Bo, Yayoi Kusama, Korakrit Arunanondchai, John Cage, Renato Leotta, Heather Phillipson, Urile Orlow, Jumana Manna, Lungiswa Gqunta, Pipilotti Rist, Maaike Schoorel, Libby Harward, Futurefarmers, Taro Shinoda, Tacita Dean.
The various artistic perspectives on the garden divide the exhibition in five thematic areas such as Pairidaeza, Paradise, Utopia, Dystopia // Anthropocene, Chthulucene // Urban Gardening // Garden as a System / Structure of Thought // Colonialism, Migration, Botany.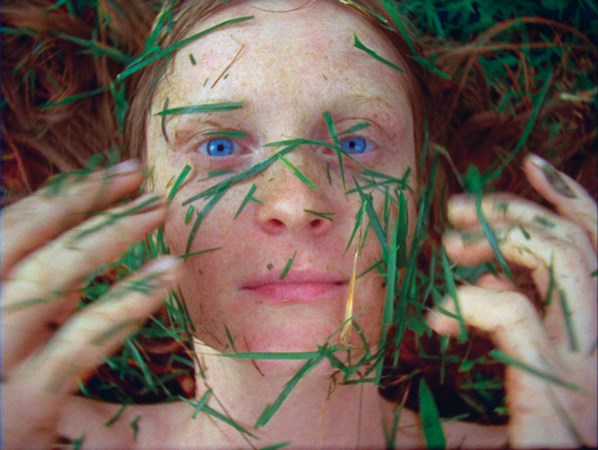 Pipilotti Rist, "Homo sapiens sapiens", 2005, Audio-video installation (video still), Pipilotti Rist, courtesy the artist, Hauser & Wirth and Luhring Augustin
The very well structured exhibition is a compendium of valid notions of garden. Videos, installations, paintings, sculptures and interactive playgrounds allow the visitors to amuse themselves in very peculiar and sensorial settings. The whole exhibition crosses various ideas of gardens such as paradisiacal locations but also places that per se include an inside and an outside rising questions about exclusion and expulsion.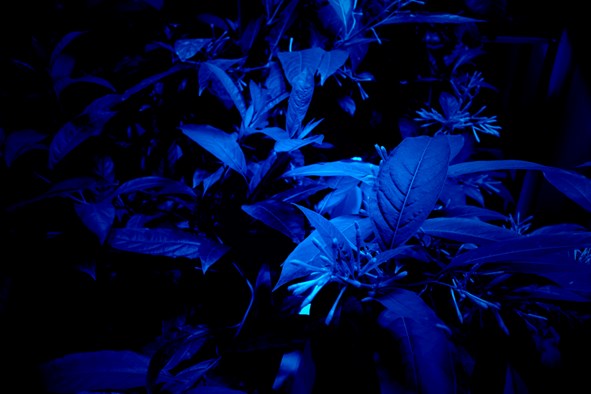 Hicham Berrada, "Mesk-ellil", 2015, Installation, ensemble of 7 stained glass terrariums, cestrum nocturnum, horticultural lighting, moonlight lighting, delay, Exhibition view Paysages a circadiens, kamel mennour, Paris, 2015 , Collection macLyon, Hicham Berrada, Photo: archives kamel mennour, courtesy the artist; kamel mennour, Paris / London & & VG Bild-Kunst, Bonn 2019
They can also be locations that can be vehicles allowing a critical examination of the human attempt to control nature. Then there are gardens as response to Urban Gardening inviting to rethink urban spaces. They can be an opportunity to explore the concept of garden as a sustainable system and an useful and enriching structure of thoughts. But also as places where the colonial patterns continue such as international pharmaceutical companies scour nature in search of new medicines to patent and doing so destroying indigenous knowledge systems, a process called biopiracy. Many facets and identities  of gardens and the relationship between man and nature are beautifully presented in a sensorial exhibition that becomes a journey into parallel universes.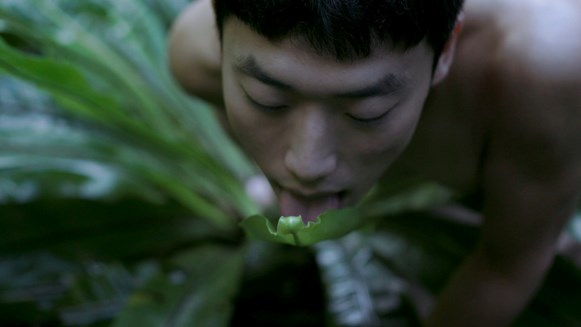 Zheng Bo, "Pteridophilia 2", 2018, Still of video, 4K, color, sound, 20 min, Zheng Bo
The exhibition THERE IS NO NON-VIOLENT WAY TO LOOK AT SOME-BODY by the artist Wu Tsang (*1982, US) is the result of the Gropius Bau's In House: Artist in Residence programme where she took part in 2018. Tsang's central concern is language. The title is a provocative statement and it comes out from the text Sudden Rise at a Given Tune (2017 onwards), which was collaboratively written by and with Fred Moten and that resonates in the whole exhibition. The title implicates the filmmaker's point of view and most significantly the act of looking itself. Answering to the massive proliferation of overtly violent images in our times and the latent violence of the camera, Tsang's artistic practice, that was born in creating and documenting queer clubs, and community activism - pursues modes of resistance and questions the viability of safe spaces. 
Wu Tsang stimulates reflections about violent practices that can be found in every circumstance and in every being. Focusing on a delicate theme such as violence caused by intolerance, xenophobia and limited horizons, Tsang generates stratified works where the notions are interwoven in multi reflections and statements to acknowledge and potentially contrast dangerous tendencies of our time.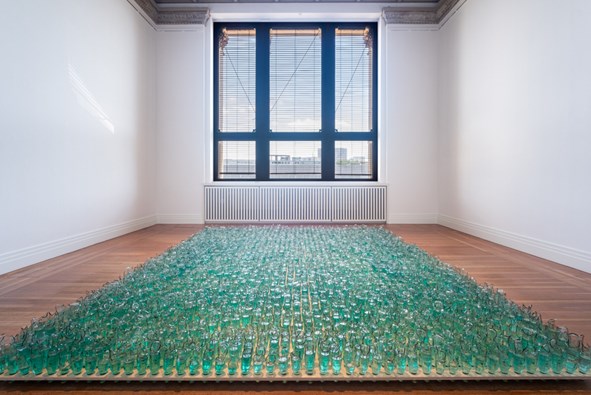 Lungiswa Gqunta, "Lawn I", 2019, Installation view Garden of Earthly Delights, Gropius Bau, Berlin, 2019, Photo: Mathias Völzke, courtesy: the artist
Walking through Walls is dedicated to the 30th anniversary of the Fall of the Wall interrogating the experience of vulnerability and anxiety caused by power structures that thrive on confinement and segregation. The Fall of the Wall was one of the most relevant symbols of the twentieth century utopianism revealing the need of togetherness. Recent signs of extreme nationalism and populism have given space to more divisive ideologies. Particularly for this reason, Walking through Walls is extended beyond German particularities, becoming a catalyser for critical reflections on the impact being exposed to divisions, both real and metaphorical. Bringing together 28 international artists, the exhibition spaces up from painting, sculpture, photography and film to sound installation and site-specific installations and performances.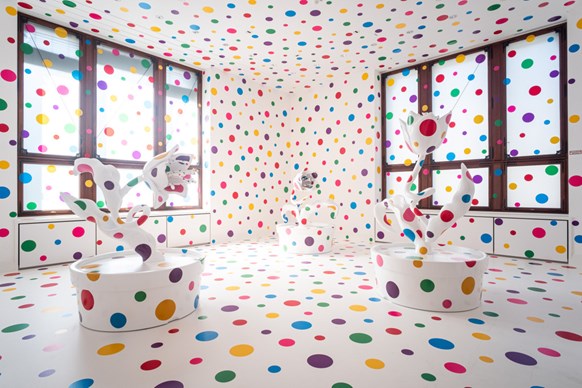 Yayoi Kusama, "With All My Love for the Tulips, I Pray Forever", 2013, Installation view Garden of Earthly Delights, Gropius Bau, Berlin, 2019, Photo: Mathias Völzke, courtesy: Ota Fine Arts, Tokyo / Singapore / Shanghai YAYOI KUSAMA
Three main inquiries runs over the exhibition. The first one brings together works that explore the physical presence of walls and how they function as sites of separation; the second reflects on the impact that physical and metaphorical walls have on those who have to deal with them and the third depicts the struggles to defeat existing divisions. Indeed a show that sheds a light on an historical but also very present issue that needs to be taken in consideration finding sustainable, supportive but mostly human solutions.