Image: Vulnerability, Olga Karika
A new art initiative, Art Lodge Gallery, has recently launched a virtual platform to curate and showcase works from reputable and recognized artists around the world. This is a particularly welcome development, especially in these times of the persisting-but-hopefully fading pandemic that has robbed not only the art world but the global economy of substantial progress for the most part of the year. 
It is however with renewed hope that with the advent of ventures such as this, artists will be availed more opportunities to present works to their desired audience.
Vulnerability, Olga Karika, available for sale at www.theartlodge.com
The artworks on view have been curated with keen attention to quality and longevity, spanning various media including painting, drawing, sculpture and mixed media, providing ready access to collectors looking to explore alternative options to physical exhibitions and art fairs.
A major focus by Art Lodge Gallery would also be on contemporary African art. With the growing global interest in the diverse and unique visual expressions encountered in the African scene across various art disciplines, the gallery intends to showcase a large collection of works by emerging and acclaimed African artists to cater adequately to teeming interests as they come.
Within the first two weeks of operations, the gallery has achieved some commendable feats without a formal launch. A few works have been sold and more partnership deals have been signed with not just artists but galleries looking to explore the virtual space as a means to reach more art enthusiasts.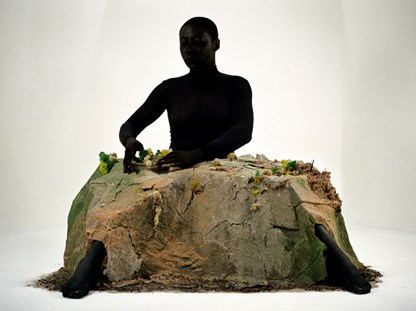 Alterscapes: Playground (A), Otobong Nkanga, 2015, C-print mounted on aluminium, 50 x 67 cm, avail;able foe sale at www.theartlodge.com
We also have on the site, works from a European collection by some of the world's most sought-after artists like Otobong Nkanga. Artists interested in working with the gallery are encouraged to make enquiries.
Another special feature to look out for with the Art Lodge Gallery is the specially curated exhibitions organised by seasoned guest curators on behalf of the gallery.
With highly-experienced team members in the global art scene, resident in various continents, Art Lodge Gallery guarantees quality and authenticated artworks as well as a smooth virtual experience for every stakeholder.
To view artworks and for further enquiries on the Art Lodge Gallery, you are welcome to visit www.theartlodge.com