EVB: How do you position Art Brussels as a fair versus your competitors?
Anne Vierstraete: I believe that Art Brussels has endured over the years because it has succeeded in staying faithful to its distinctiveness as a discovery fair, reserving a large part of the fair to the most emerging talents, and also because of its reputation among gallerists and art lovers to be a valuable marketplace where art is showed for its inherent quality. The fair demonstrates a passionate and distinctive approach to contemporary art, which appeals to fans and collectors fleeing the trends of the moment and the art already seen in other major fairs.
EVB: Describe the mission of Art Brussels.
AV: Our mission is to be an international fair, with all that that includes, and thus to be an exciting platform for the discovery of art and a place to see booths from some of the top blue chip international galleries. By this we introduce the international art scene to the Belgian art enthusiasts, and altogether, being strongly anchored within our national base, we of course widely promote the liveliness of the Belgian art scene and the Belgian artists abroad. Art Brussels is proud to have played a pivotal role in the Brussels' burgeoning art scene, which has developed over its 50 years. Brussels hosts a well-established collector base and a large number of private collections, as well as being a draw for artists and consequently a number of artist-run initiatives.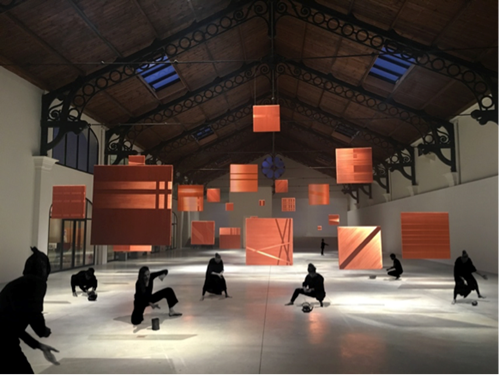 Alice Anderson. Title: NUHÉ: ARCHITECTURE DATA. Year: 2018. Measures: Technic: performative sculptures. Copyright: Alice Anderson / Alice Anderson Studio/La Patinoire/Galerie Valerie Bach
Agnès Thurnauer. Title: Land and Language #4. Year: 2017. Measures: 200 x 280 cm. Technic: acrylic on canvas. Copyright: © Agnès Thurnauer
EVB: What about PRIME?
AV: Galleries in the PRIME section are international players focusing on mid-career and established artists, mainly contemporary. The selection is made by the International Gallery Committee. I am very curious to see the booths of our newcomers in PRIME, like Zeno X (Antwerp), Tim Van Laere (Antwerp), Tommy Simoens (Antwerp), Mendes Wood (Sao Paulo, Brussels, New York), Blain Southern (London, Berlin), Habana (Havana), Anne Mosseri Marlio (Basel), etc.
I also look forward to our most promising 22 presentations in the SOLO section, dedicated to the work of one specific artist. Some will be complete installations, such as the colourful site-specific intervention by Nicolas Party (Xavier Hufkens, Brussels), a performative installation by Frog King Kwok (10 Chancery Lane, Hong Kong), the complete reconstruction of the artist's studio by Sofie Muller (Geukens & De Vil, Antwerp – Knokke), and an insight in the unique world of Alex Chaves (Martos Gallery, New York). Some galleries will also present a thematic curatorial approach, such as Handy Minimalism (OV Project, Brussels), Touch Wood! (Sorry We're Closed, Brussels) and Lust, Laughter & Liquor (jointly curated by PLUS-ONE Gallery and Sofie Van de Velde, Antwerp).
Each year, we award the best artist in SOLO with the SOLO Prize of 10.000 €, supported by Van Den Weghe, a Belgian high-end natural stone company. The independent jury selecting the winner is comprised of international curators and collectors.
EVB: Who is the selection committee?
AV: Our international selection committee for PRIME, REDISCOVERY and SOLO is constituted of Belgian and international gallerists.
Albert Baronian | Galerie Albert Baronian (Brussels)
Loïc Bénétière | Ceysson Bénétière (Luxemburg, Paris, Saint-Etienne, New York)
Michael Callies | dépendance (Brussels)
Simon Devolder | Xavier Hufkens (Brussels)
Benedicte Goesaert | Zeno X (Antwerp)
Rodolphe Janssen | rodolphe janssen (Brussels)
Thomas Krinzinger | Galerie Krinzinger (Wien) 
Polina Stroganova | Proyectos Monclova (Mexico City)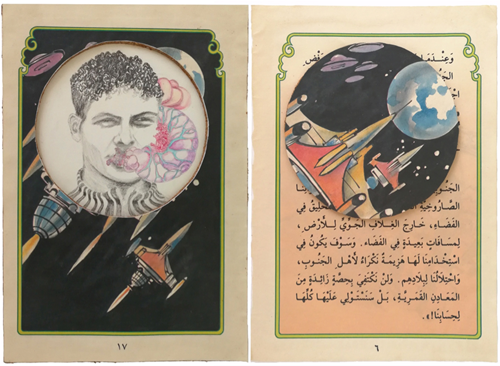 Yesmine Ben Khelil. Title: Météorites III et IV. Year: 2016. Measures: 16.6 x 24 cm. Technic: mixed media. Copyright: Yesmine Ben Khelil / AGorgi Gallery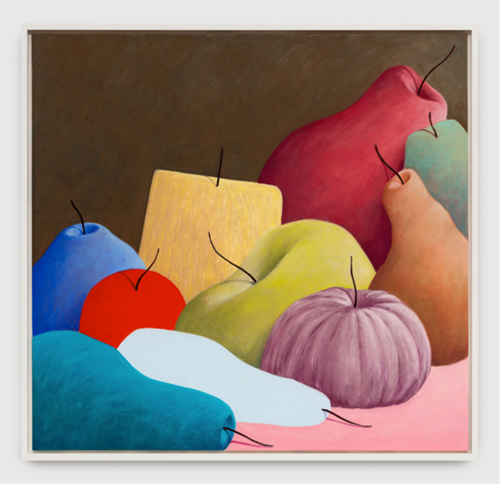 Nicolas Party. Title: Still Life. Year: 2017. Measures: 130 x 150 cm. Technic: pastel on canvas. Copyright: photo: HV-studio, Brussels, courtesy: the Artist and Xavier Hufkens, Brussels
EVB: Which criteria do they use?
AV: There is a list of specific and very precise criteria that has been formulated and which is circulated to the international gallery selection committees. On the basis of this list, each proposal is looked at carefully and evaluated. We look into the quality of the artistic proposal, the artists, the track record of the gallery, and of course, the quality of the overall presentation. The latter is very important as the presentation of art is often compromised at art fairs. We also have specific rules in place about how many artists a specific gallery can show in a given space to avoid overkill.
EVB: What about DISCOVERY?
AV: DISCOVERY presents 33 galleries who actively support emerging international artists that are not yet known within the European context, and whose practice constitutes a real 'discovery'. The works are produced between 2015 and 2018.
Discoveries are not always where you expect them to be but of course, I am very fond of our DISCOVERY section. This year's edition brings a lot of first-time participants among which are A.Gorgi (Sidi Bou Said), Bank (Shanghai), Braverman (Tel Aviv), Derouillon (Paris), l'étrangère (London), Felix Frachon (Brussels), Öktem&Aykut (Istanbul) and Parisian Laundry (Montreal).
Our international selection committee for DISCOVERY is constituted of international curators and gallerists.
Michael Callies | dépendance (Brussels)
Adam Carr | Curator, Writer and Lecturer (Liverpool)
Martha Kirszenbaum | Curator and writer (Los Angeles)
Barbara Seiler | Barbara Seiler (Zürich)
Sofie Van de Velde | Sofie Van de Velde (Antwerp)
EVB: What about REDISCOVERY?
AV: The section is dedicated to art from 1917 to 1987, by living or deceased artists who are underrecognized, underestimated or forgotten. Tracing a timeline that spans the beginnings of conceptual art to neo-conceptualism via the twentieth-century avant-garde, this section aims to excavate and highlight surprising, unknown and original practices that have not yet broken into the art historical mainstream.
From the beginning, we wanted to keep this section compact in order to ensure quality, and precisely because it is more difficult to find proposals that fit the criteria of the section. The 'Rediscovery' section in fact extends the 'Discovery' profile in a more historical sense.
The REDISCOVERY section this year should not be missed by collectors, with participants such as Luis Adelantado Gallery (Valencia), who will be exhibiting the exceptional work of Darío Villalba, whose work combining sculpture and photography has cemented him as one of the most pioneering and essential figures in understanding the Spanish artistic landscape of the 1970's. But also Henrique Faria (New York) with a focus on three Argentine artists, Antoine Laurentin (Paris, Brussels) showing Belgian hyperrealistic art and Belgian Pop with Evelyne Axell and Axel Vervoordt Gallery (Wijnegem, Hong Kong) presenting the very personal abstract oeuvre of Italian artist Ida Barbarigo.
EVB: What about disruptive contemporary art?
AV: Art Brussels always searches for integrating the latest trends in the arts. Disruptive art is integrated in the fair's offer and certainly explored through the talks we organize yearly addressing post-internet art. Artists use all possible media and channels in their art, this way reflecting how the society we live in and how our lives, and the way we interact with what surrounds us, are undergoing fundamental changes through the growing digitalization and dematerialization.
EVB: What about the Artistic Project: Mystic Properties?
AV: The point of departure for the flagship artistic project of this Art Brussels edition, in collaboration with HISK (Higher Institute for Fine Arts in Ghent) is the Ghent Altarpiece, also known as The Adoration of the Mystic Lamb (1432). Painted by Jan and Hubert Van Eyck, the altarpiece is considered one of the most important paintings of the Western canon, a monument of a proto-modernity still rife with such dichotomies as mysticism and realism, art and craft, and myth and science.
The exhibition looks beyond the canonized status of the altarpiece to reflect on two propositions: the altarpiece's local belonging and its epic migrations. For centuries, it was an object of desire for kings and heads of state, dictators, governments and regular citizens. Its various panels were sold, looted and ransomed, incorporated into royal collections and migrated between countries as spoils of war.
With this vertiginous perspective on the historical shifts in the status of the Ghent Altarpiece in mind, the participating artists explore the motives of belonging and possession, displacement and recovery, as well as the paradoxes of owning and exhibiting art in the present day. They question both the relationship to the Altarpiece's canonical greatness and the impurity of categories and canons as such.
Antony Gormley. Title: WAIT. Year: 2015. Measures: 240 x 65 x 50 cm. Technic: 2 mm square section stainless steel bar. Copyright: courtesy of the artist and Galleria Continua, photo Stephen White, London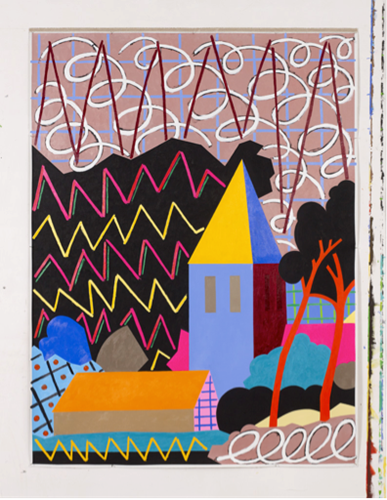 Gal Albert Baronian. Name: Leen Voet. Title: #43 - 1987-10-31 Bert Vandael series. Year: 2018. Measures: 163,5 x 121,5 cm. Technic: Oil on unstretched canvas. Copyright: Kristien Daem
Prune Nourry. Title: Imbalanced Head #8 Jianwei (Needles). Year: 2014. Measures: 29.5 x 22 x 25 cm
Technic: wax, acupuncture needles. Copyright: Laurent Edeline, courtesy of Galerie Templon, Paris-Brussels
EVB: What about the Film Project: Crossed Wires?
AV: On top of the special projects, the fair has commissioned artist Philippine Hoegen for an original film entitled Crossed Wires, which explores the Belgian art scene as perceived from different positions and timeframes within the past 50 years. It gives insight into its development and complexity, focusing in particular but not exclusively on Brussels. In preparation of the film numerous people were asked the question which persons, places or practices are important for them. Many who were mentioned were asked the same question and so on, resulting finally in a varied assortment of interviewees. The notes for the informal preparatory conversations became the set for the film: a haphazard, subjective mapping, and an apparatus to add to, correct, disagree with and discuss.
EVB: How do you reach out to the collectors?
AV: Collectors often benchmark different fairs by looking at the additional advantages that go beyond what fairs typically have on view. Therefore, being part of a strong community and working closely with art partners in the location of the fair is essential in strengthening the global attraction power.
Brussels is lucky to be part of a country which by tradition has a strong collectors base. Also geographically, the city's location in the heart of Europe and only two hours from many European capitals is a huge advantage. The whole year long, we are connected to our international collector base, and we promote and announce the program that will be on show during the Art Brussels days, both inside and outside the fair on the occasion of events we organize abroad.
EVB: What is the role of an art fair in today's new art economy?
AV: I believe in the essential role that international art fairs like Art Brussels play in order to diversify the offer on the global art market. This allows galleries to address specific collectors' communities with whom they can build long-term relationships through a distinctive profile and a dedicated approach towards the richness of art historical content and a close attention to quality.
We also consider it our role to educate people to contemporary art, helping them to discover the latest trends and acting as a horizon widener. This is also why, next to the gallery presentations, the fair brings numerous artistic projects and a rich discursive program. 
EVB: Which social media, art related apps or platforms do you use to support the visitor, collector and the gallery?  
AV: We communicate a lot via our own Facebook, Twitter and Instagram accounts and have developed an exclusive online partnership with Artsy since the platform was launched.
EVB: How do you support young galleries?
AV: Our DISCOVERY section is typically addressed to younger galleries. Booths are all 25m² and the price per m² is lower than in other sections of the fair. This way, we try to encourage participation of galleries which take risks with the promotion of emerging artists, not being assured that they will one day enjoy international renown. In order to stimulate qualitative presentations, we award the DISCOVERY Prize of 5.000 €, supported by Moleskine, to the gallery with the most outstanding presentation. The selection of the winner is done by an independent jury comprising international curators, collectors and artists. 
EVB: What about sculptures?
AV: For the first time since our move to Tour & Taxis in 2016, eight monumental sculptures will surprise the visitor by the entrance of Art Brussels.  The large-scale artworks by renowned artists and emerging talents, represented by participating galleries, will be on display outdoors on a 3000 m² esplanade at the entrance of the fair.
The following artists have a work on view:
Caroline Coolen, Flag, 2010, The White House Gallery
Paolo Grassino, Cardiaco, 2011, Mario Mauroner
Bernd Lohaus, Eupen, 1993, Tommy Simoens
Stefan Nikolaev,Candélabres, 2010, Michel Rein
Bernard Pagès,Échappée II, 2006, Ceysson & Bénétière
Karl Philips, Hand Pump Car, 2017, Dauwens & Beernaert Gallery
Bernar Venet, Indeterminate Line, 2007,Ceysson & Bénétière
Henk Visch, Das Kino, 2011, Tim Van Laere Gallery