Art Brussels, one of Europe's most original and established art fairs, has announced its 38th edition. The fair makes its long awaited in-person return from Thursday 28 April to Sunday 1 May 2022 with a strong and international line up and a unique mix of established artists and emerging talent. With an increase in SOLO gallery presentations, Art Brussels continues to be highly curated and more appealing than ever.
Anne Vierstraete, Managing Director of Art Brussels, says: "The local and international galleries participating in the fair this year have demonstrated tremendous levels of enthusiasm and commitment. They are eager to meet at Art Brussels after two missed editions due to the pandemic. The successful launch of Art Antwerp last December - which brought together 56 galleries and nearly 10,000 visitors - demonstrated our ability to safely organise a fair, and the 38th edition of Art Brussels will provide an exciting platform for presentations which resonate with the DNA of our collector base. Art Brussels is dedicated to discovery and eschews art market trends for studied approaches, works that hold a narrative, or have an intimate or societal dimension that interact with the viewer. The fair provides an inspiring and safe environment for these multiple interactions to occur."
Nele Verhaeren, Director of Art Brussels, adds: "88% of the participating galleries at the 38th edition remained part of the fair during the pandemic and they are eager to finally present their artists to our discerning and openminded collector base. As a consequence, there was stiff competition for newcomers hoping to secure a booth at the fair. After a three year absence, the galleries and artists are working hard to meet high expectations by preparing an exciting in-person return. This includes our largest ever selection of SOLO presentations from galleries represented in the PRIME section; the 34 presentations on view will allow the Art Brussels' visitors to gain a substantive in-depth understanding of those artists. The curatorial focus has been a constant feature of what defines Art Brussels: in the DISCOVERY section, galleries will curate a 'conversation' between two artists or present a one-person show. At INVITED, Art Brussels will welcome five galleries who are rethinking the gallery model. REDISCOVERY highlights artists whose work deserves more recognition. Art Brussels is celebrated as one of the most interesting European contemporary art platforms and it will continue to offer a mix of renowned galleries with an established artist roster and younger galleries with a cutting-edge programme."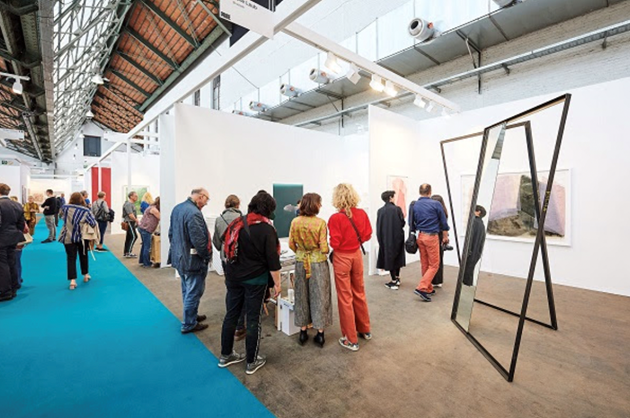 Art Brussels 2019 © David Plas
156 galleries are presented across the fair's four sections: 103 in PRIME, 41 in DISCOVERY, 7 in REDISCOVERY and 5 in INVITED, as well as 34 presentations in the fair's SOLO sub-section. Returning galleries in the PRIME section include; Baronian Xippas (Brussels); dépendance (Brussels); Xavier Hufkens (Brussels); rodolphe janssen (Brussels); Tim Van Laere (Antwerp); MARUANI MERCIER (Brussels, Knokke, Zaventem); Greta Meert (Brussels); Sorry We're Closed (Brussels); Axel Vervoordt (Hong Kong, Wijnegem); and Zeno X (Antwerp). International returning galleries include Almine Rech (Paris, Brussels, London, New York, Shanghai); BATON (Seoul); Bernier/Eliades (Brussels, Athens); Ceysson & Bénétière (Geneva, Luxembourg, Lyon, New York, Paris, Saint-Etienne); Gladstone (Brussels, Los Angeles, New York, Seoul); The Hole (New York); Lelong & Co (New York, Paris); Nino Mier (Brussels, Los Angeles, Marfa); Michel Rein (Paris, Brussels); and SMAC (Cape Town, Johannesburg, Stellenbosch).
Newcomers include; Albarrán Bourdais (Madrid); C L E A R I N G (Beverly Hills, Brussels, New York); Vera Cortês (Lisbon); Laurent Godin (Paris); Martos (New York); Nagel Draxler (Cologne, Berlin, München); and Lia Rumma (Milan, Naples).
The fair shows its dedication to a curated display with an increased number of 34 SOLO presentations. Highlights include installation works by the conceptual art group from the late 1960s Art & Language (Mullier Mulier, Knokke); in-situ installations comprising of drawing and writing by French-Algerian artist Abdelkader Benchamma (Templon, Brussels, Paris); work that is in between land art, photography and painting by Marie Cloquet (Jason Haam, Seoul); multidisciplinary work by Koenraad Dedobbeleer (C L E A R I N G, Brussels, New York, Beverly Hills); works by Milan-based painter and designer Nathalie Du Pasquier (Greta Meert, Brussels); works by Guadeloupe artist inspired by the visual culture of the Carribean Kenny Dunkan (Filles du Calvaire, Paris); Ryan Hewitt, South African born artist renowned for his brooding and evocative paintings (MARUANI MERCIER, Brussels, Knokke, Zaventem); work on paper by Mimi Lauter (Mendes Wood, Brussels, São Paulo, New York); abstract paintings by Canadian Beth Letain (De Brock, Knokke); naturist paintings by Marin Majic (Nino Mier, Brussels, Los Angeles, Marfa); works by artist and important representative of Viennese Actionism Hermann Nitsch (Galerie RX, Paris); textile works by the Belgian artist Klaas Rommelaere (Zink Waldkirchen, Seubersdorf in der Oberpfalz); Maarten Vanden Eynde (Meessen De Clercq, Brussels); figurative paintings by Shirley Villavicencio Pizango (Geukens & De Vil, Antwerp, Knokke); works inspired by poetry and linguistics by Stefan Vogel (Jahn und Jahn, Munich); and Leon Vranken's radically simple sculptural installations (Gallery Sofie Van de Velde, Antwerp with the support of mariondecannière).
The INVITED section is a platform for new emerging galleries functioning as a research hub for artists and questioning the traditional gallery format. Among the 5 new coming galleries in this section; Fridman (New York); Office Impart (Berlin); and SUPRAINFINIT (Bucharest).
Discoveries from emerging artists will be made in the DISCOVERY section with a new curatorial guideline. Galleries present either a one-person show or an interesting dialogue between two artists. The section includes textile works by Elen Braga and paintings by Julien Saudubray (Waldburger Wouters, Brussels); Venezuelan artist and graphic designer Dayana Lucas (LEHMANN + Silva, Porto); mixed media works by Anastasia Pavlou (Hot Wheels Athens); Trevor Shimizu with La Maison de Rendez-Vous (Brussels) for their first time in the section after a participation in the INVITED section in 2019; South-African sculptor Chris Soal who uses toothpicks in his craft (WHATIFTHEWORLD, Cape-Town); and works by Ricardo van Eyck (tegenboschvanvreden, Amsterdam).
A few projects in the REDISCOVERY section are works by conceptual artist Vincenzo Agnetti (Osart, Milan); textile works by Ayako Miyawaki (Frédéric Moisan, Paris); paintings by Serge Vandercam (Callewaert Vanlangendonck, Antwerp).
Check out exciting works of contemporary African art on the ArtDependence art store on Artsy. Click the Artsy banner to see the array of works on view.