After a show in Lyon, which was hugely successful with the French public despite the health crisis, with more than 130,000 visitors, Tempora is organizing the exhibition "Antoine de Saint Exupéry. The Little Prince among People" in Hall 2 of Brussels Expo (Heysel). This exceptional exhibition is dedicated to Antoine de Saint Exupéry (1900-1944) and to his most famous work, The Little Prince. It offers a grand immersion into the poetic universe of the author and his famous character.
The exhibition will run from February 25 - June 30, 2022.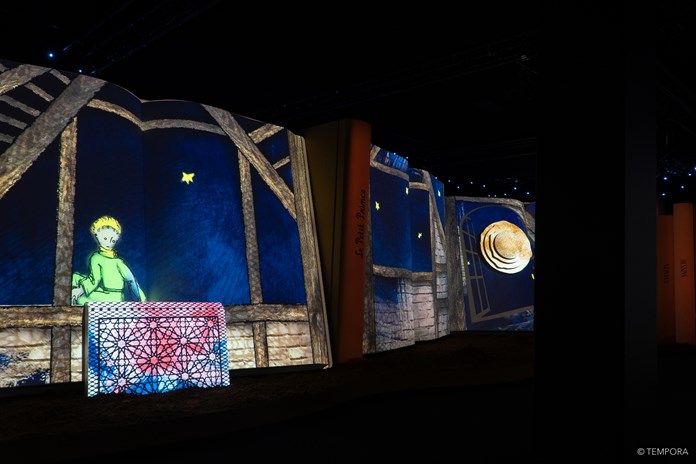 The trail takes visitors into the wonderful world of the versatile French author: reporter, aviation pioneer, resistance writer during the Second World War, ... The voice of Marie de Saint Exupéry, mother of Antoine, accompanies the visitor through the full course.

An interactive trail that was set up in a cross shape

This exhibition of 1500m 2 has a spectacular staging, sublimated by the floating sculptures by Arnaud Nazare-Aga, and the public with a visual and sensory experience in the (re) discovery of the universe of the Little Prince and his author.

An immersive, grandiose and fabulous space allows visitors to play hide-and-seek between the author and his famous character. And that ensures a lot of fun for young and old!

The workshop of "The Little Prince" at the end of the visit invites everyone, young and old, to prolong the immersion through philosophical scenarios from the life and work of the writer.

Items and Testimonials Collected for the First Time

Personal objects of Antoine de Saint Exupéry are also on display. The trail is enriched by a series of projections and audiovisual montages, testimonials from the writer, his family and his friends.

This traveling exhibition took place on the 75th anniversary of the book's release in France. Today, the work has been translated into 457 languages ​​and dialects, and has sold more than 11 million copies in French alone. The exhibition was designed by Tempora in partnership with the Antoine de Saint Exupéry Foundation for Youth.