The American Folk Art Museum (AFAM) announced the promised gift of a sculpture by American artist William Edmondson (1874, Davidson County, Tennessee—1951, Nashville, Tennessee). The sculpture has been offered to the Museum in honor of AFAM's 60th anniversary by Brian Donnelly (a.k.a. KAWS), an artist, collector, and member of the Museum's Board of Trustees.
The work is likely the long-time missing Martha and Mary sculpture, which was last seen publicly in the exhibition Trois siècles d'art aux États-Unis ("Three Centuries of American Art" or "American Art 1609-1938), organized by the Museum of Modern Art (MoMA) at the invitation of the French Government for the Musée du Jeu de Paume from May to July 1938. 84 years later, the sculpture will be displayed again in AFAM's exhibition Multitudes, which will open on January 21, 2022.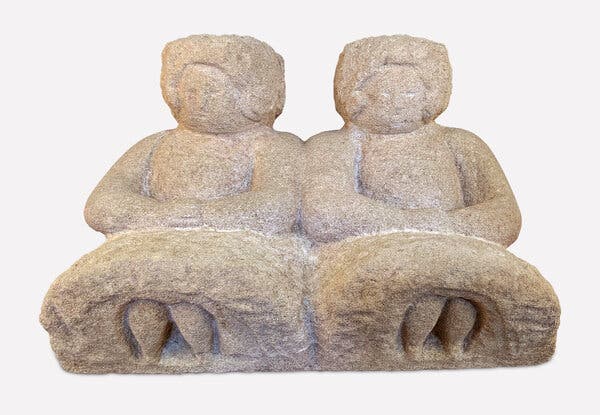 "Since the early 1960s, the American Folk Art Museum has championed, studied, and presented the work of William Edmondson. In fact, the Museum's first monographic exhibition was of Edmondson's sculpture in March 1965," said AFAM Director and CEO Jason T. Busch. "We are grateful to KAWS for this generous gift, which is yet another example of his inspiring support of the Museum."
The initial owner of the work, Mrs. Cornelius N. Bliss, Jr. (originally Zaidee C. Cobb) of New York, purchased it in the context of the making of the exhibition Sculpture by William Edmondson in 1937 at MoMA. Her husband, Cornelius N. Bliss, Jr., an American merchant, politician, and art collector, was the brother of Lillie P. Bliss, a founder of MoMA. Their son, Anthony Addison Bliss, owned the work until his death in 1991. The sculpture came to AFAM and Mr. Donnelly from Anthony Addison Bliss' widow, Sally Bliss.
For many years, Martha and Mary was installed outdoors on Sally Bliss' property in St. Louis, Missouri. It was recently rediscovered by John Foster, an educator, graphic designer, and collector, who contacted Dr. Valérie Rousseau, Curatorial Chair for Exhibitions and Curator of Art Brut & Self-Taught Art at AFAM. The piece was altered, but not damaged, by natural elements and has been conserved and cleaned by conservator Linda Nieuwenhuizen.
"As an admirer of William Edmonson's work, I'm happy this sculpture will have a home at the American Folk-Art Museum, where a wider audience might also discover the importance of this incredible artist," said KAWS.
Commented Sally Bliss: "I lived in New York for over 50 years. During that time, I knew the American Folk-Art Museum well. I'm excited and glad to know that this sculpture will soon be on display at the museum. My husband and I intend to travel to New York to see it when the exhibition opens in January."
Among Edmondson's favorite themes are the two sisters, Martha and Mary. Harper's Bazaar photographer Louise Dahl-Wolfe (United States, 1895-1989) became acquainted with Edmondson's body of work around 1936-1937 when visiting Nashville and brought the artworks to the attention of MoMA. The version of Martha and Mary acquired by AFAM appears in one of Dahl-Wolfe's contact sheets, likely photographed on Edmondson's yard.
"The rediscovery of this excellent Edmondson is a compelling story. It will be a celebratory moment to feature Martha and Mary in the upcoming exhibition Multitudes, where it will be contextualized in Edmondson's larger repertoire, "said Dr. Rousseau. "This is a major addition to the Museum's collection. We are deeply appreciative of KAWS' extraordinary support and grateful to the fruitful collaborations that made this acquisition possible."