AFP is launching its first-ever auction with some 200 photos from its analogue photography collection, offering a rare opportunity to buy unique prints capturing important historic moments.
'The Analogue Years'' live auction, hosted by one of the world's leading news agencies, will take place Sunday, October 3, 2021, under the direction of DIGARD AUCTION, at the we are_ event space in Paris. It will also be held live online at Digard.com (via the French platform Drouot) and on the American platform Artsy.net on October 3. There will be two weeks of open bidding available ahead of the auction at Artsy.net.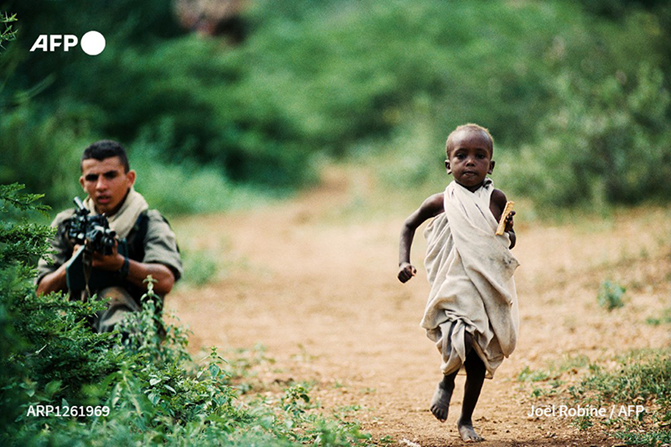 ''Some of the photos on sale are real photographic 'surprises', while others are symbolic moments that made international news in the last century. Several have become cult classics,'' says Marielle Eudes, AFP's director of photography. ''They bear witness not only to the richness of the Agency's documents from a historical perspective, but also to an exceptional photographic quality that is little known to the general public.''
The selection on sale is made up of photographs illustrating current events from 1944 – the founding year of AFP – up to 1998, when the Agency started rolling out digital photography.
Some of the photographs will be exhibited ahead the sale at several venues across Paris ahead of the auction:
 The ''Made in the USA'' works by Eric Schwab, an AFP photographer from the late 1940s, will be on display at the Fisheye Gallery from 3 September to 3 October (2, rue de l'Hôpital Saint-Louis, 75010).
 Another 40 photographs will be on display at the we are_ event space from September 13 to October 3 (73, rue du Faubourg-Saint-Honoré, 75008)
 A large collection of photographs to be offered at the auction will be on display at Galerie 75FAUBOURG from October 1 to 3 (75, rue du Faubourg Saint-Honoré, 75008)
Photos for sale at ''The Analogue Years'' include:
 News photos, including from the Liberation of Paris to the release of Mandela
 Scoops like the photographs of Che Guevara's death
 Spot news pictures, including from the robbery of the Crédit de la Bourse
 Scenes from daily life
 Celebrity photos, from Salvador Dali to James Baldwin
 Signature images with a focus on the photographs of Eric Schwab, one of the first photographers to work for AFP after the agency's founding in 1944
Each photograph, in black and white or colour, will be offered as a unique ''special edition'' copy:
 On analogue baryta paper for manual prints made from original black and white negatives,
 On analogue and digital baryta paper for prints made from digital files from scans of black and white negatives,
 On chromogenic paper for prints made from digital files of scans of colour originals.
The prints will be signed and stamped by AFP, accompanied by a certificate of authenticity.
AFP's photographic collection includes more than 15 million photos. The ''analogue'' collection consists of six million images (from the 1920s to 1997), including 350,000 glass plate negatives.
Awarded the highest international photojournalism prizes each year, and recognised for its quality and diversity, AFP's photo production is used daily by the world's leading media.
The live auction will take place at we are_, 74 rue du Faubourg-Saint-Honoré, 75008 Paris. Founded in 2020 by entrepreneur Éric Newton, we are_ is a hybrid space that seeks to foster creativity and innovation.
The auction catalogue, in French and English, will be available to consult and purchase on the digard.com website.