Six of the world's most exciting contemporary artists from America, Germany, Ghana, Mexico and the UK present their ideas for the next Fourth Plinth commissions in 2022 and 2024.
Nicole Eisenman
Jewellery Tree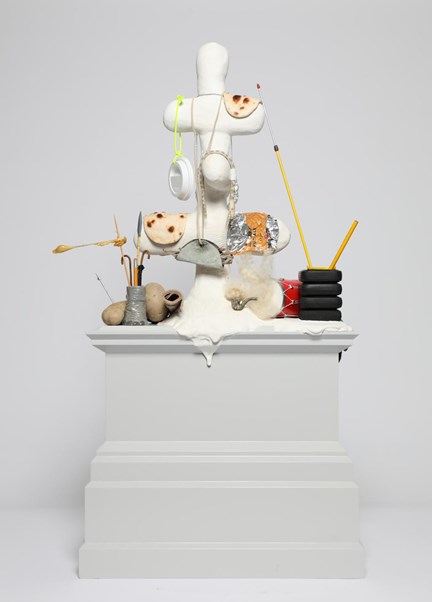 Nicole Eisenman's jewellery tree is taken out of the home and recreated on a monumental scale for the Fourth Plinth. Hanging off it are the accumulated trinketry and mementos you might find on top of a dressing table: some superfluous and wasteful, others meaningful and precious.
This tree has Lord Nelson's medals, the pipes of Bloody Sunday protesters, a plastic coffee lid and a crushed beer can. There are also symbols of philosophies that have come in and out of fashion over the years. Some are specific to Trafalgar Square and its history; others speak more to the general human experience. They are objects that reflect the perpetual motion of time and advancement, alongside the remnants of what society leaves behind.
Samson Kambalu
Antelope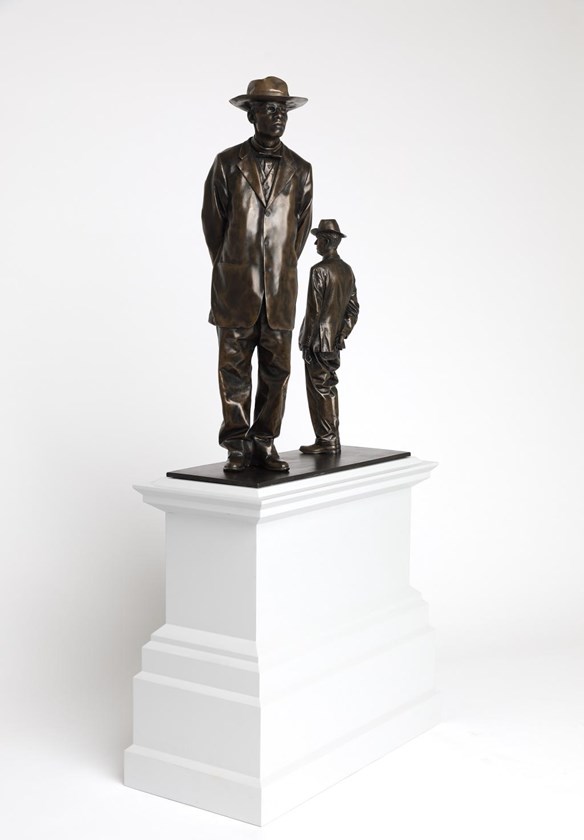 Antelope restages a photograph of Baptist preacher and pan-Africanist (belief in a unified African nation) John Chilembwe and European missionary John Chorley as a sculpture.
The photograph was taken in 1914 at the opening of Chilembwe's new church in Nyasaland, now Malawi. Chilembwe has his hat on, defying the colonial rule that forbade Africans from wearing hats in front of white people. A year later, he led an uprising against colonial rule. Chilembwe was killed and his church, which had taken years to build, was destroyed by the colonial police.
On the plinth, Chilembwe is larger than life, while Chorley is life-size. By increasing his scale, the artist elevates Chilembwe and his story, revealing the hidden narratives of underrepresented peoples in the history of the British Empire in Africa, and beyond.
Goshka Macuga
GO NO GO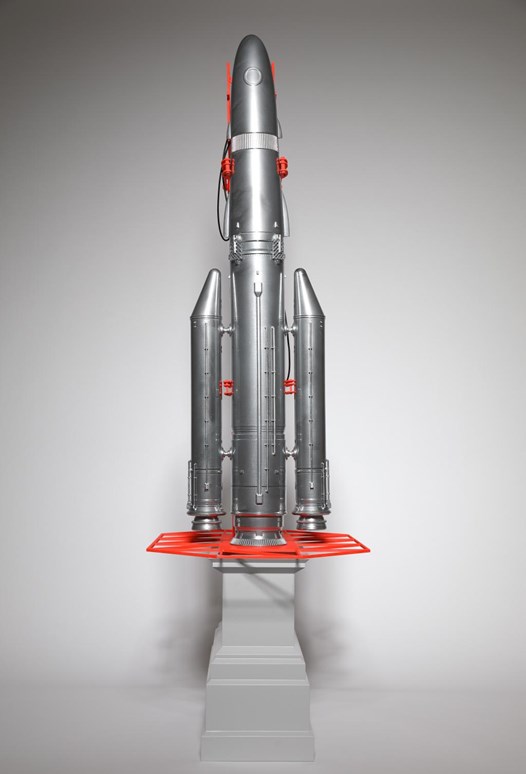 Trafalgar Square is a public space defined by its many social and political uses. A site of protests and campaigns – from the Bloody Sunday riots to anti-war and climate change rallies and anti-Brexit protests. The square has also been a place of celebration and recreation and was the backdrop for the BBC's Monty Python Flying Circus.
Macuga challenges the notion of how we use public space and specifically, Trafalgar Square. Her rocket encourages us, as visitors to the square, to look up, towards outer space. It gives us an alternative view of our existence, and of the UK's current state of flux and change.
Ibrahim Mahama
On Hunger and Farming in the Skies of the Past 1957-1966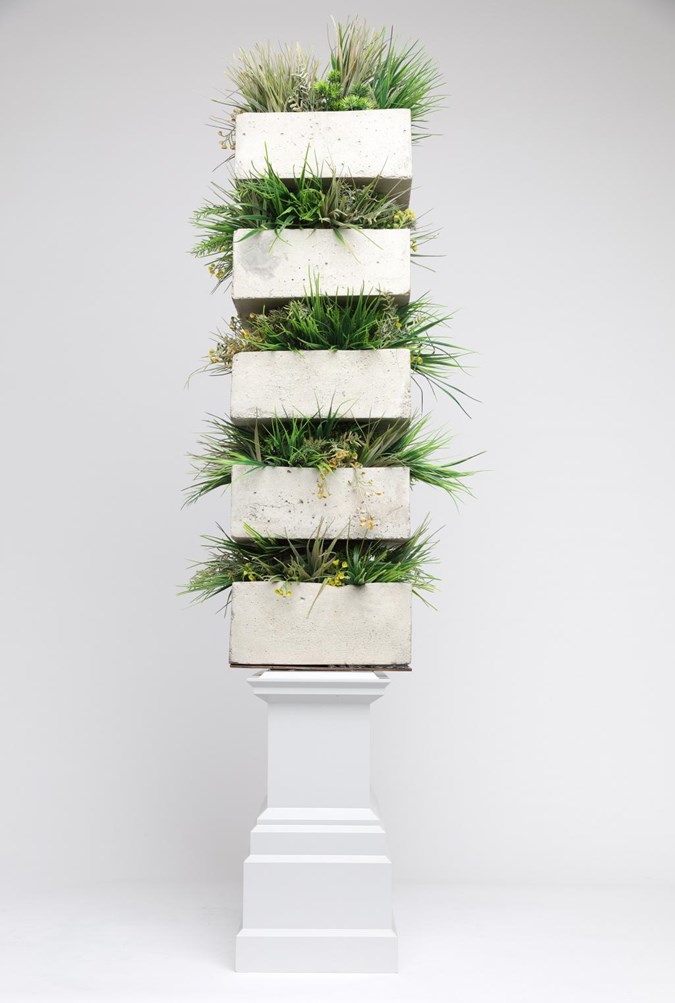 Ibrahim Mahama's sculpture recalls grain silos partly built by Easter European architects in Ghana during the early 1960s. These were later abandoned after the military overthrow of President Kwame Nkrumah in 1966. Mahama's work addresses gaps in the unfamiliar history of Ghana, around the time of the Cold War. It also explores things that are forgotten or discarded.
The silos were abandoned at different stages of construction, so each is unique.
Mahama presents a silo from Tamale in northern Ghana, his hometown. Unlike the other versions around the country, this one was abandoned at a much earlier stage in its construction. The entire building appears to be in limbo, waiting for another form of life to occupy it.
Teresa Margolles
850 Improntas (850 Imprints)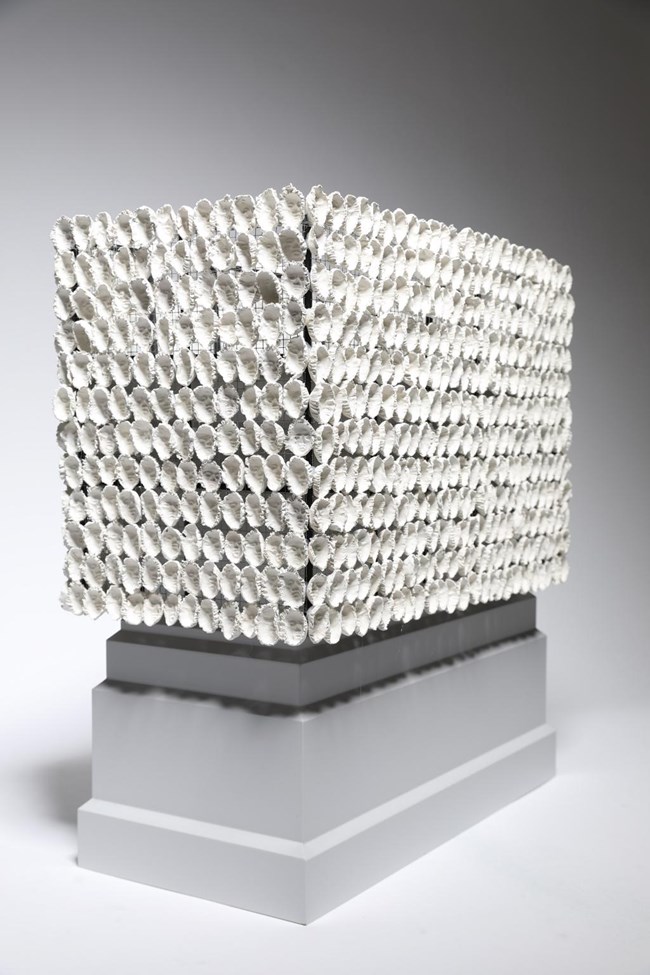 Teresa Margolles' sculpture features casts of the faces of 850 trans people, most of whom are sex workers. She works closely with this marginalised community that sometimes is unable to access social care. The casts will be arranged round the plinth in the form of a Tzompantli, a skull rack from Mesoamerican civilisations (an area covering Central Mexico to northern Costa Rica). It was used to display the remains of war captives or sacrifice victims.
The casts will be created together with trans communities. Plaster will be applied directly onto their faces. As such, not only will their features be recorded, the material will also become infused with their hair and skin cells. London's weather, means the work will inevitably deteriorate and fade away, leaving a kind of anti-monument behind. This will continue to command attention and put a spotlight on participants whose lives are often overlooked.
Paloma Varga Weisz
Bumpman for Trafalgar Square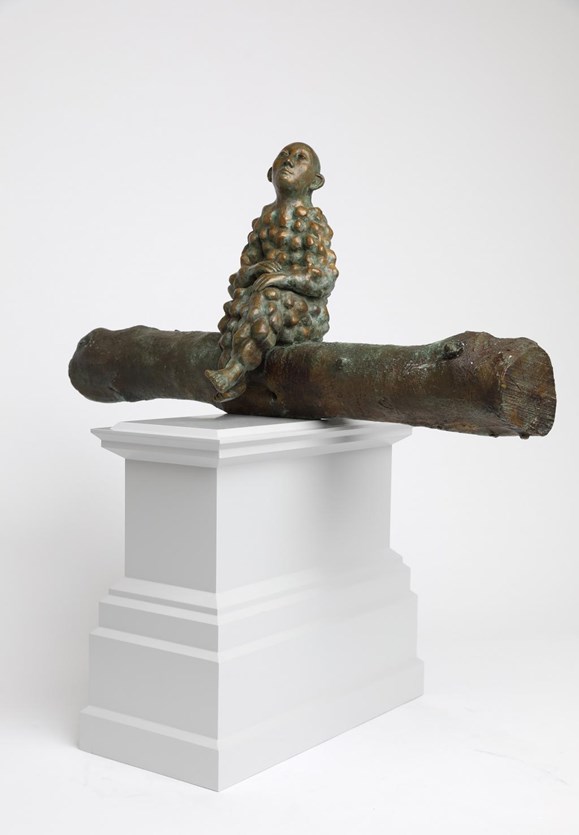 Bumpman is a figure Paloma Varga Weisz has returned to often in her work. She is inspired by the German "Wundergestalten" tradition, early sixteenth century pamphlets depicting extraordinary human anatomies, and the "Schrat," a spirit of German folklore.
Bumpman is a quiet anti-hero. His body appears curious and distorted by organic swellings. His protrusions represent our own insecurities and body dysmorphia. A sculptural visualisation of the body's fragility and these precarious times, Bumpman stands apart from the famed lions and Nelson's Column. He is gentle and unassuming against this backdrop of historical grandeur, resting on his branch, inviting us to join him in quiet contemplation.