Robert Colescott's George Washington Carver Crossing the Delaware: Page from an American History Textbook, painted in 1975, comes to auction this May in New York as a highlight of the Contemporary Art Evening Auction.
Colescott paints a radical counter to the exclusionary narrative that has long dominated art history. In the present work, the artist takes on an iconic image that within the public consciousness represents American ideals of freedom and political liberation, unveiling its inherent racial bias. The artist turns the original image on its head, holding a mirror to American culture using essentialized racial caricatures to underscore the glaring omission of the African-American narrative within the prevailing representations of American history, and highlight how that history is built on a legacy of racism and inequity. George Washington Carver is an enduring testament to the singular potency which characterizes Colescott's distinctive vernacular, as well as the extraordinary contribution he has made to the development of Contemporary American painting.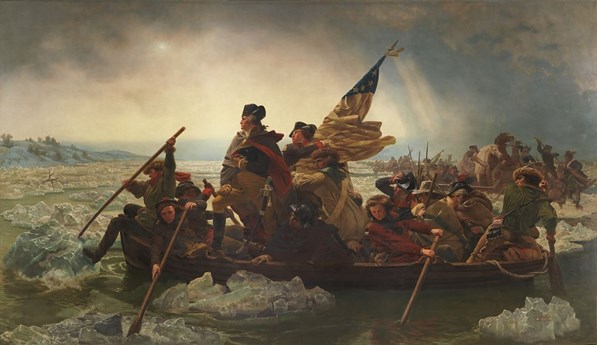 Emmanuel Leutze, Washington Crossing The Delaware, 1851. The Metropolitan Museum Of Art, New York
Providing a satirical intervention in in American history, culture, and politics, Colescott confronts the canon of Western art history upon its own terms, boldly commandeering the grand artistic genre of history painting. In Leutze's work (pictured below), Washington is dramatically depicted as the hero and father of America at its inception, captured at the turning-point of the American Revolutionary War. Colescott's adaptation radically rewrites the American national self-mythology, parodying the grandeur of historical genre painting while exposing the structural racial divides of the United States. Teeming in a melee of animated forms, vibrant, garish hues, and sumptuous painterly marks, Colescott enacts the racial tensions prevalent in American society; simultaneously highly familiar and distinctly uncanny, his characters serve as cartoonish allegories for complex social issues, employing satire to critically engage questions of implicit bias which implicate its viewers and society at large.
Acquired directly from John Beggruen Gallery in San Francisco in 1976, George Washington Carver has remained in the same esteemed private Midwestern collection ever since. As the definitive embodiment of Robert Colescott's revolutionary and highly acclaimed painterly oeuvre, George Washington Carver is included in every text on the artist, and is presented as a touchstone of American art in virtually every survey on Twentieth Century art history. Further testifying to the painting's importance, the work has been included in every major exhibition on the artist, and has been exhibited alongside other masterworks of art history in numerous seminal exhibitions of the twentieth century, including the Whitney Museum of American Art's 1978 exhibition Art About Art, and Thelma Golden's seminal 1994 exhibition The Black Male: Representations of Masculinity in Contemporary American Art, also at the Whitney Museum. Recently, the work was prominently included in important exhibitions including Figuring History: Robert Colescott, Kerry James Marshall, Mickalene Thomas at the Seattle Art Museum in 2018 and We Fight to Build a Free World at The Jewish Museum in New York in 2020-21.
With an estimate of $9 – 12 million, the painting is poised to shatter the artist's current auction record of $912,500.
Ahead of its auction debut this May, George Washington Carver Crossing the Delaware: Page from an American History Textbook will be on view in Hong Kong from April 16 – 21 and will travel to Los Angeles from 24 – 26 April, before returning to New York for public exhibition from 1 – 12 May.