This fall, a group of artworks by Ai Weiwei, El Anatsui, and other contemporary artists will simultaneously go on view in a dozen different gardens worldwide. In a sense, that is. They're augmented reality artworks, all belonging to "Seeing the Invisible," a new exhibition curated by Hadas Maor and Tal Michael Haring.
The exhibition features 13 augmented reality (AR) works of art by both established and emerging artists from around the world. Setting these digital experiences inside botanical gardens of different countries, without disturbing the preservations, and keeping the carbon footprint to the minimum, the exhibition addresses themes pertaining to nature, environment, and sustainability and explores the boundaries and connections between art, technology, and nature. In doing so, it invites viewers to contemplate contemporary ideas relating to site and non-site, physical and digital realms.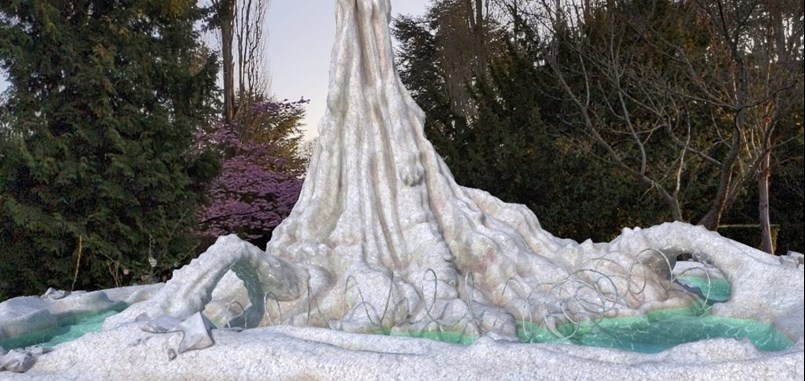 Sigalit Landau, Salt Stalagmite #1 [Three Bridges] (2021).
Co-curators, Hadas Maor (contemporary art curator) and Tal Michael Haring (virtual and augmented reality expert and curator) worked with the artists to select existing works as well as commission new ones, and to position these new experiential artworks in unique spots in each of the participating botanical gardens. The exhibition can be viewed only upon visiting the participating botanical gardens, and is experienced through the Seeing the Invisible mobile app developed for this project. The participating gardens all present the same exhibition, but as the artworks are augmented into the unique surroundings and context of each garden, the exhibition is experienced differently against the backdrop of each location, and is actually constructed, as a whole, on different iterations of the same corpus of works.
This open-air exhibition is a continuation of the efforts to present and discuss art in the current pandemic crisis, while also allowing local communities to be exposed to the forefront of contemporary art from around the world.
In each case, the artists' efforts will be situated among the local flora thanks to a dedicated, downloadable app. The idea, said exhibition co-curator Tal Michael Haring in a statement, is to break down "the binary between what is often considered 'natural' versus 'digital.'"
 "Coming out of the pandemic when outdoor experiences and nature have taken on a new meaning and gravity in our lives, this exhibition represents a fresh way for people to engage with art and nature simultaneously," Haring added.
Outset co-founder Candida Gertler and director Mirav Katri even offered a name for the special brand of work in the show: "this exhibition [bridges] the physical and digital worlds to create a new 'phygital' model," they said in the show's announcement.
The exhibition will open in September 2021, and be on view for a full year, simultaneously, across Royal Botanic Gardens Victoria (Cranbourne, Australia), Royal Botanic Gardens Victoria (Melbourne, Australia), Royal Botanical Gardens (Canada), Jerusalem Botanical Gardens (Israel), Kirstenbosch National Botanical Garden (South Africa), Eden Project (UK),  Royal Botanic Garden Edinburgh (United Kingdom), Tucson Botanical Gardens (USA), San Diego Botanic Garden (USA), Denver Botanic Gardens (USA), Marie Selby Botanical Gardens (USA) and Massachusetts Horticultural Society (USA).