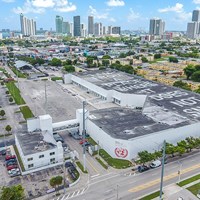 Article date: Friday, September 4, 2020
VOLTA Miami Launch Postponed to 2021
In tandem with Art Basel Miami Beach's announcement, it is with great sadness Volta Miami made the decision to postpone its launch to December 2021.
---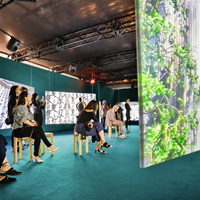 Article date: Thursday, September 3, 2020
MCH Group Announces the Cancellation of Art Basel in Miami Beach
In view of the current global conditions, MCH Group has no option but to cancel the Art Basel show in Miami Beach scheduled to take place from 3 to 6 December 2020 at the Miami Beach Convention Center.
---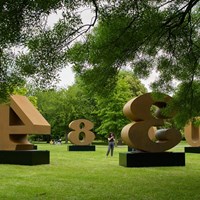 Article date: Wednesday, September 2, 2020
Frieze Sculpture Returns this October in Regent's Park
This October sees the return of Frieze Sculpture in Regent's Park and a hybrid programme of online and offline activity, reaching audiences worldwide via Frieze Viewing Room as well as celebrating the vibrant art scene in London.
---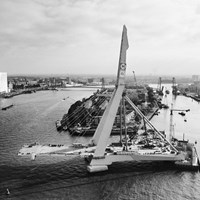 Article date: Wednesday, September 2, 2020
Nederlands Fotomuseum Presents the Exhibition 'Rotterdam Works!'
As long as photography has existed, photographers have portrayed Rotterdam. Indeed, they were the ones that gave the city its face. After the success of its 2015 exhibition Rotterdam in the Picture, the Nederlands Fotomuseum now presents its successor: Rotterdam works! This exhibition revolves around photographs of Rotterdam commissioned by companies and government agencies from 1864 to the present.
---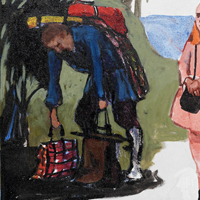 Article date: Wednesday, September 2, 2020
Rego's 'Weekend' at Bonhams Modern British and Irish Art
DAME PAULA REGO R.A. (BRITISH, BORN 1935) Le Weekend signed and titled 'Le Weekend/Paula Rego' (on canvas verso) oil on canvas 30.5 x 40.5cm (12 x 15 15/16in). (unframed) Painted circa 1952
---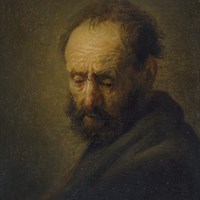 Article date: Tuesday, September 1, 2020
Ashmolean Uncovers a Painting from Rembrand's Workshop in Museum Stores
The Ashmolean has uncovered a painting in its stores, bequeathed to the Museum in 1951, which can now be confirmed as having been painted in Rembrandt's workshop in c. 1630. The tiny picture, Head of a Bearded Man, is a portrait study of an old man with a downcast gaze, typical of Rembrandt's work at this time.
---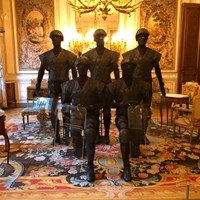 Article date: Monday, August 31, 2020
Manifesta 13 Marseille Launches Le Grand Puzzle and Opens its First Exhibitions
Following on from this research, Hedwig Fijen and Winy Maas invited two local city makers, Joke Quintens and Tarik Gezhali, to use the leading themes of Le Grand Puzzle as a point of departure for the development of a deliberative process consisting of 22 citizens' workshops entitled Le Tour de Tous les Possibles, which brought together roughly 500 citizens from a variety of backgrounds to discuss societal, environmental and cultural issues directly derived from the narratives, data and analyses of Le Grand Puzzle.
---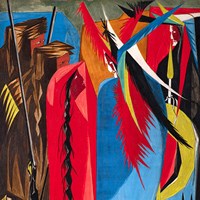 Article date: Monday, August 31, 2020
The Met Opened its Doors with Exhibition 'Jacob Lawrence: The American Struggle '
Jacob Lawrence: The American Struggle features the little-seen series of paintings—"Struggle: From the History of the American People" (1954–56)—by the iconic American modernist. The exhibition reunites the multi-paneled work for the first time in more than half a century.
---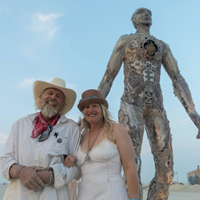 Article date: Friday, August 28, 2020
Burning Man, Art on Fire : The Enthusiasm Splashes from The Screen
An inspirational insight into the spectacular art at the center of this annual celebration, BURNING MAN: ART ON FIRE follows the unpredictable journey of the artists who defy reason to bring their massive installations and sculptures to the punishing Nevada desert. Filmed just after Burning Man's legendary founder suddenly died, the community of artists is challenged by impossible timing and blinding dust storms.
---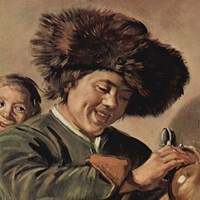 Article date: Thursday, August 27, 2020
'Two Laughing Boys' Painting by Frans Hals is Stolen for the Third Time
The Frans Hals painting Two Laughing Boys with a Mug of Beer has been stolen for the third time in its recent history. The painting was taken from the Museum Hofje van Mevrouw van Aerden in Leerdam before dawn on Wednesday, after robbers forced open the back door, police said in a statement.