Two Dogs Fighting is a large, exceptional work, revealing the artist's mastery over space, his subject matter and his media. The energetic unevenness of the repurposed card is highlighted by the active rearing dogs and kicking man, and Traylor masterfully positions the red dog's head to acknowledge and engage the uppermost arced area of the card, making the surface itself an integral part of the composition. The drawing includes elements in tempera, colored pencil and graphite, showing the diversity of Traylor's markmaking in a manner not usually evident in a single work. His bright, bold dogs command the foreground, while the man and dog in the lower right read as background figures both through scale and the cooler, more transulcent tones employed. This sophisticated play between placement and rendering style and application speaks to the artist's skill in harnessing his marks to create nuanced narratives.

Traylor's signature, rarely included in his works, is embedded in the central section of the image, situating the artist actively amidst his subjects.
Outsider and Vernacular Art
21 January, 2021
Lot 66
BILL TRAYLOR (CIRCA 1853-1949)
Two Dogs Fighting; Man Chasing Dog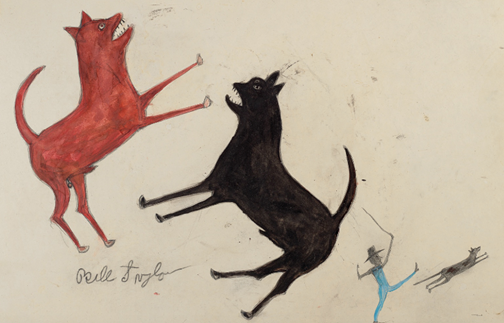 Bill Taylor, Two Dogs Fighting; Man Chasing Dog, image courtesy to Christie's
1939-1942 signed 'Bill Traylor' lower left tempera, graphite and colored pencils on white paper-faced card 18 x 25 ¾ in.
Estimate: USD 100,000 - USD 200,000