Image: Jeff Widener, Tank Man, 1989
30 years ago today, a major uprising shook the streets of Beijing. Protesters held ground in an area known as Tiananmen Square. Images of the protest appeared in the press around the world and a single photograph known simply as 'Tank Man' seemed to capture the scene in the public imagination and become one of the most iconic photographs of all time. ArtDependence had the opportunity to speak to photographer Jeff Widener about his enduring photograph.  
ArtDependence: Did you know at the time that the photo would become an iconic photo?
Jeff Widener (JW): No, at the time I took the photo of 'Tank Man' I was suffering from the flu and a head injury I received that night. Though I knew the photo was well received by the world, it was only years later after AOL published a story titled 'Top ten Most Memorable Photos in The World' that I began to realise how powerful it was. I saw all the famous iconic images from photographers Nick Ut, Eddie Adams as well as the famous Hindenburg crash and Buzz Aldrin on the Moon. Then I saw my 'Tank Man' image. I almost cried when I saw it. That was when I finally realized I had accomplished something extraordinary.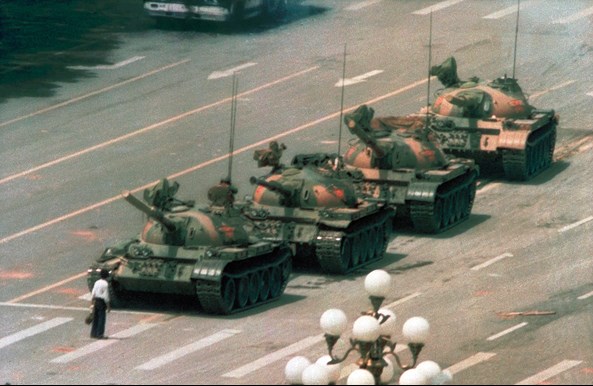 Jeff Widener, Tank Man, 1989
AD: How do you look back on that day?
JW: It was full of terrifying drama. I drew straws with two other photographers to work a night shift and monitor the students in Tiananmen Square. At first, things were quiet, but then the situation got crazy. An old man with a long white beard approached me. He was laughing. He opened his jacket and there was a large hatchet dripping with blood. I was shocked and quickly walked away. Later that night I was attacked near a burning car but managed to get out of the situation by showing my American passport. I was near a burning APC where a dead soldier was on the ground. I tried to take a picture of a man rolling around on the ground completely engulfed in flames as another protester tried to help him. As soon as I raised the camera to my eye I was hit with a large chunk of cement which was thrown by a demonstrator. My Nikon titanium camera absorbed the blow, which saved my life. My roll of film had to be pried open in the darkroom at the AP office. To top off my massive injury, I was also suffering from the flu.
AD: What happened for you after the photo has been published worldwide?
JW: I received a lot of worldwide acclaim and was nominated for a Pulitzer Prize. On the 20th anniversary, the BBC flew me to Beijing for a secret documentary and while walking down the Changan Boulevard I spotted a pretty German girl. We spent the day together and we were married in Honolulu the following year.