Working mainly in video installations and sculptures, artist Elias Cafmeyer creates site-specific installations. His work is often inspired by and placed in public spaces that show a context with the city that contains them.
Cafmeyer sees the city landscape as a metaphor for social construction and focusses on the traces of urban development and the signs and symbols that orchestrate our mobility within those environments. His interventions deal with strategies such as inversion, juxtaposition and contrast, creating a deep sense of alienation. As well as his video installations, Cafmeyer often uses raw, industrial material such as metal, untreated wood and concrete. 
ArtDependence (AD): Your work crosses many mediums including video and sculpture. What medium do you find best expresses your vision?
Elias Cafmeyer (EC): Every medium has its own sense of decisiveness. An artwork only expresses itself through a certain medium. For me, as an artist, all mediums are equally strong, but the best medium for the job will vary depending on the work.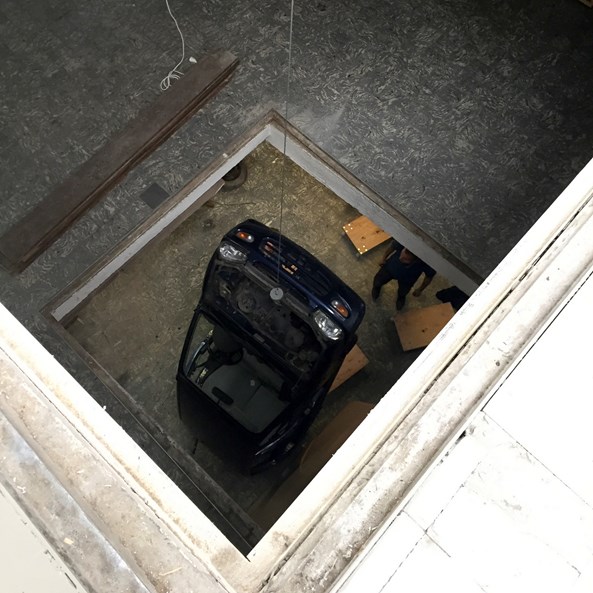 Install of the exhibition 'Elias Cafmeyer: The choice of Ria Pacquée' at Kunsthal Extra City. Photo by Kunsthal Extra City
My work deals with public spaces and how the users of those spaces experience them. I'm interested in how people are influenced by the urban infrastructure. In my installations I incorporate artefacts of urban development and elements that define our orientation in the city and reflect our social behaviour. I mainly use video to reflect on public spaces in a more abstract way. With sculptures, I intend to reinterpret specific forms from the public space. Every medium has its own way of representing an idea.
AD: You have an interest in urbanism and mobility. How does your work influence decision-making?
EC: As a small child I was fascinated by Brussels, by its impressive buildings, churches and avenues, its atmosphere and mix of cultures. Later in life I started noticing how the city has an impact on the life of its inhabitants and how different cities relate to different people.
For example, when they rebuilt the Leien in Antwerp it had an impact on the users of the public space.
For me, mobility is closely related to urbanism, as it is a kind of public space where people have the most contact with each other.
With my work I intend to influence the way people look at the world and their environment.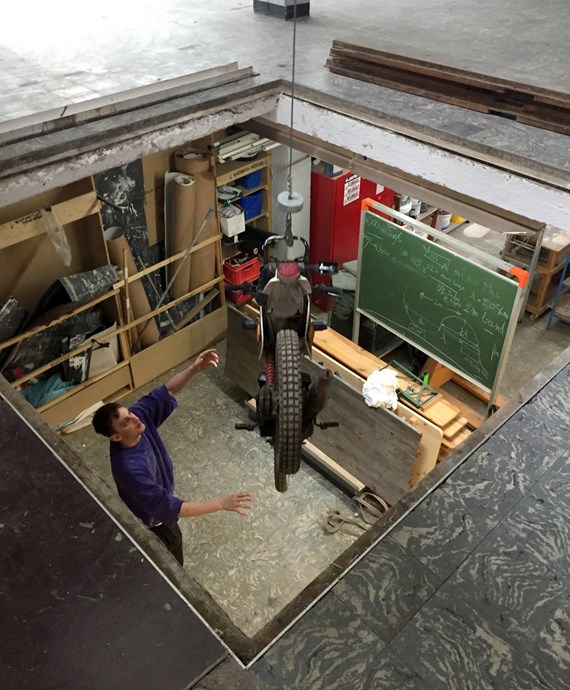 Install of the exhibition 'Elias Cafmeyer: The choice of Ria Pacquée' at Kunsthal Extra City. Photo by Kunsthal Extra City
AD: Can you tell me a bit about what you will show at Extra City?

EC: For the series of exhibitions titled 'The choice of', Kunsthal Extra City invites some of Antwerp's most renowned artists to nominate a promising artist. For the upcoming second edition, Ria Pacquée has selected me.
I prefer not to go into details about the installation, because it's better when you experience it without too much prior knowledge. So come and visit!
I will say that I have brought architectural features from public spaces into the exhibition space of Kunsthal Extra City. I created a kind of trompe-l'oeil, so as a visitor, you suddenly end up in a totally different setting.
Besides this new installation I will also show a video piece from 2017. 'Kwintet' consists of five screens showing five different streets in Antwerp. The buildings on the streets are photographed separately and photoshopped back into one image. The image slowly passes in front of the screen whilst accompanied by a sound piece. The score of this sound piece is based on the heights of the buildings.
In the context of this exhibition, I also released a new limited edition, in collaboration with Ria Pacquée. The edition consists of 15 parking tickets from different car parks in Antwerp. They were never validated or paid for, which means they continue to rise in negative value.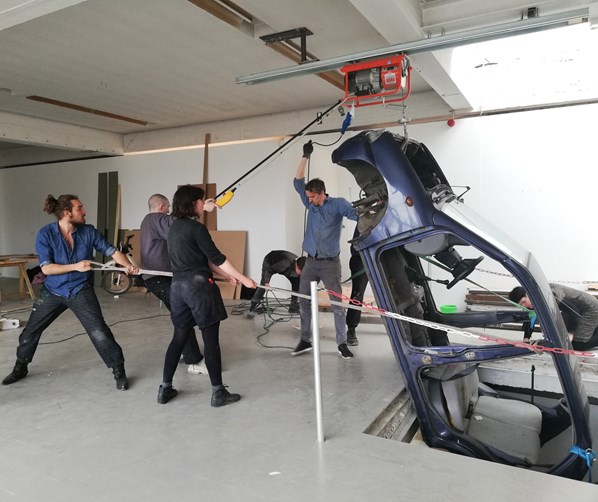 Install of the exhibition 'Elias Cafmeyer: The choice of Ria Pacquée' at Kunsthal Extra City. Photo by Kunsthal Extra City
AD: Do you have any future exhibitions planned?
EC: 'Signature. Series' is an ongoing project. For every new exhibition I make a small publication related to the previous exhibition. Together they will form one 'slow' book.
From next week on I will also be participating in a group show with Evelin Brosi & Elvis Bonier and Vedran Kopljar at Tyson Art Space in Cologne. Also, at the end of June I'll present three new sculptures in the SecondRoom in Antwerp. And finally, in Autumn I'll take part in exhibitions in public spaces in Brugge, Tielt and Bilzen. For an update, check my website www.eliascafmeyer.com.
Exhibition 'Elias Cafmeyer: The Choice of Ria Pacquée'
Kunsthal Extra City, Antwerp,  17 May-30 June, 2019